Two fuel tankers erupted into flames near the Salem first koker at Parika, East Bank Essequibo (EBE), on Tuesday morning – leaving one of the drivers severely injured and firefighters battling the flames for two hours.
Based on information received, the incident occurred shortly after 10:00h. Reports are that at about 09:00h, the two lorries were parked near the koker to discharge fuel. One of the drivers, Ramsharan Dean, indicated that he left the vehicle some 25 feet away and upon returning, he saw the smoke wafting from the cabin area. He related that almost immediately the cabin area burst into huge fire and spread to the other lorry.
By then, the driver of the second truck, Zahir Villa, attempted to move the other truck to prevent it from burning. As he tried to turn off the engine, Villa sustained injuries about his hand. He was rushed to the Leonora Cottage Hospital and examined by doctors on duty.
Eyewitnesses told Guyana Times that there was a sudden outburst of flames, which could not be contained as thick smoke surrounded the entire area, causing persons to dash for safety. Others looked on from afar as the tragic incident unfolded.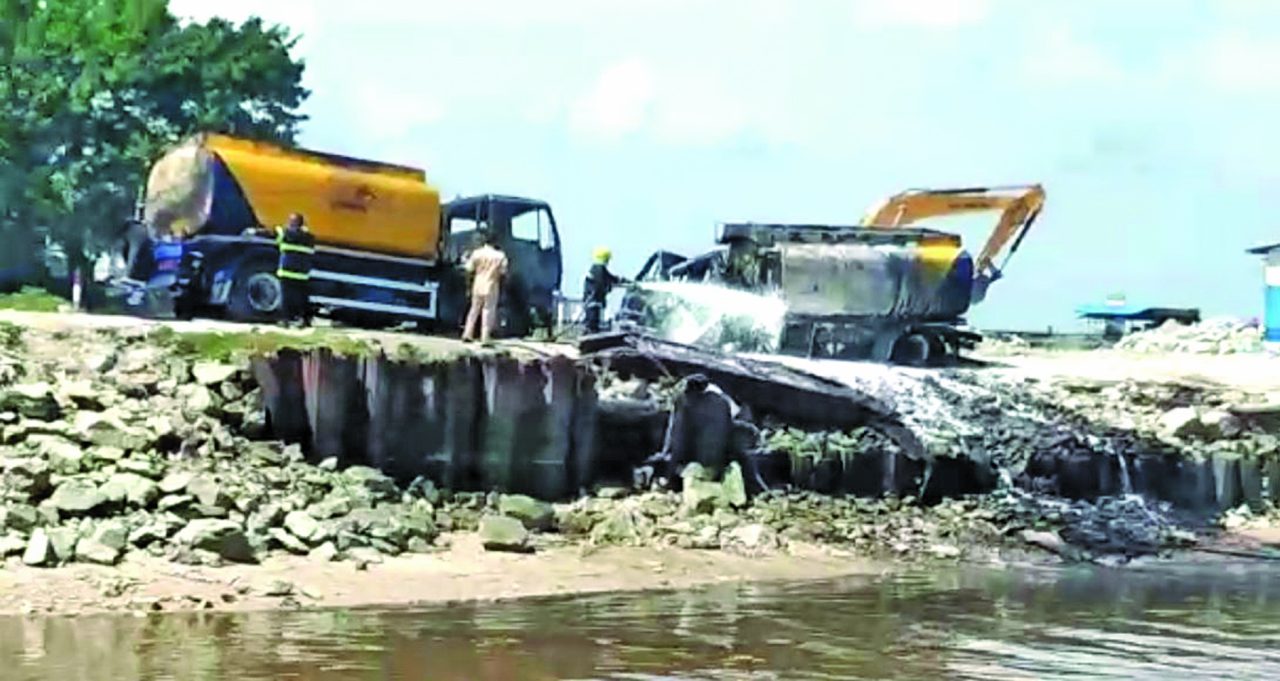 Firefighters from the Leonora Fire Station were called in to contain the blaze from spreading to a nearby gas station. Both of the tankers were filled with fuel, posing increased danger if they were not doused.
"All we noticed was that it catch afire. It was just the two fuel trucks but it's close to a service station and fuel boats and everything. One of the drivers get burn up and he was taken to Leonora Hospital," an eyewitness explained.
Boat owners also mobilised to move their vessels, since the fire had spread into the waterway as the fuel leaked.
This publication understands that the tanks belong to a businessman of Tuschen, EBE. By 13:00h, the situation was under control but the vehicles were completely damaged. Losses are estimated in the millions. (G12)