EBD land scandal
As the Police continue to probe the A Partnership for National Unity/Alliance for Change (APNU/AFC) Administration's giveaway of State lands, Chairwoman of the People's National Congress Reform (PNCR), Volda Lawrence was on Tuesday questioned by investigators at the Special Organised Crime Unit (SOCU).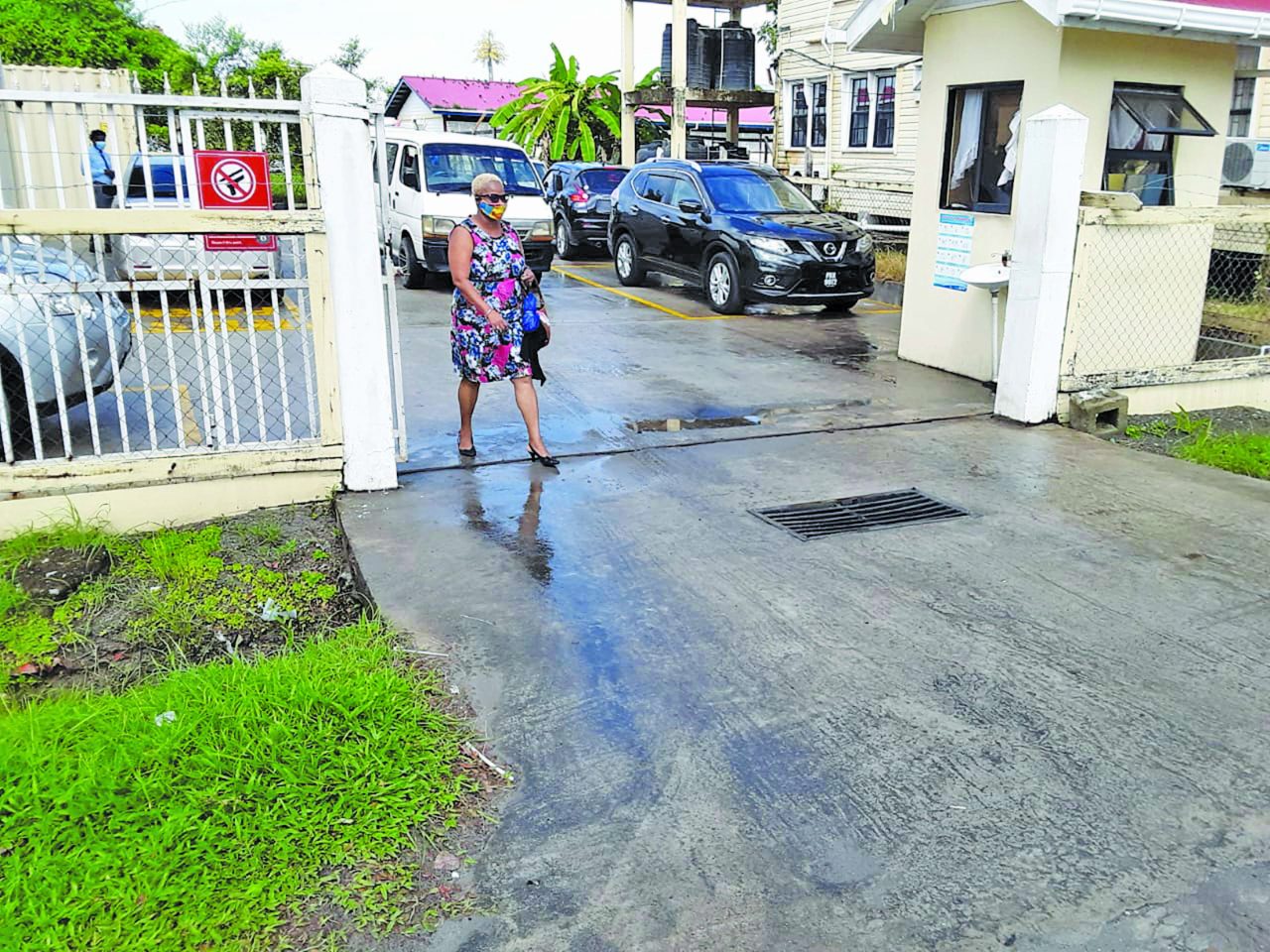 This newspaper was told that Lawrence was questioned in relation to a transaction between herself and party member James Bond following the lease arrangement with Life 1 Pharms Incorporated and A-Z Pharmaceutical Medical Supplies
After leaving SOCU on Tuesday, Lawrence, a former Health Minister under the former David Granger-led Government, told reporters that she willingly visited investigators after she was contacted.
"It wasn't anything really. It was just a clarification of a transaction that had my name on it and that was basically it and I decided I would come in and not to speak to people on the phone because I didn't know who was it," the politician told the media after being interviewed by investigators.
Investigations are currently ongoing into the massive giveaway of State lands by the Granger-led Administration. So far, PNCR member and former Member of Parliament, James Bond has been fingered in the investigation.
Bond was the attorney who represented three companies at the centre of the Peters Hall land investigation – Life 1 Pharms Incorporated, A-Z Pharmaceutical Medical Supplies and Equipment Inc and Arken Group – in the drafting of leases by the National Industrial and Commercial Investments Limited (NICIL) for lands at Peters Hall, East Bank Demerara.
The leases were controversial in nature since they were in contravention of State laws which stipulate that when State lands are leased, the lease must state that the lessee must not part with possession without the consent of the State.
However, in this case, both Life 1 Pharms Incorporated and A-Z Pharmaceutical Medical Supplies and Equipment Inc – which both leased 15 acres of land each from NICIL at an annual rate of US$11,700 – flipped those lands to a Chinese national for just $100.
In the case of Arken Group – the proprietor of that company leased 20.8 acres of land for an annual fee of US$16,224 and had his address listed as the same as Bond's. It was revealed that Bond then received US$1 million for the property after it was flipped to a local oil and gas company.
Bond was detained for questing and subsequently released on $200,000 station bail by the Criminal Investigation Department (CID) back in November 2020.
Implicated
Eddie Doolall of A-Z Pharmaceutical Medical Supplies and Equipment Inc and Avalon Jagnandan, proprietor of Life 1 Pharms Incorporated, were already questioned by the Police in relation to the flipping of the lands.
Both men, in their statements to Police, implicated Bond as the person who arranged the sale of the lands. Both men have similar stories of being told by Bond to apply to NICIL for the land, after which a buyer was found by the former Member of Parliament.
Doolall, in his statement, had told the investigators that the PNC member made all the arrangements for the land deal to take place, and in the end, pocketed more than 50 per cent of the proceeds received so far – which amounted to more than $50 million. He added that it was Bond who advised him to start up a pharmaceutical company. Doolall further claimed that it was Bond who told him to write an Expression of Interest to NICIL and that he [Bond] would take care of the rest.
This was done, and then on May 17, 2018, Doolall said Bond contacted him and informed that the lease for the lands was approved and that he needed to sign the documents.
Police sources indicated that Doolall said he would have subsequently spoken to Bond about accessing finances to develop the land and construct a storage bond. The businessman detailed that it was during this conversation that the PNCR member advised Doolall that he could transfer the lands at a prime price and use the money to invest. Doolall said Bond agreed to arrange a buyer.
Doolall explained that when Bond found the buyer, an Agreement of Sale was drafted and presented to him to review. The agreement listed a sale price of $133 million and Doolall reportedly told investigators that when he spoke to Bond about the price, it was then that the PNCR member revealed that he wanted 50 per cent of the proceeds.
It was revealed that Bond insisted that he receive his payment first from the first tranche of monies that would have been released from the buyer. According to Police sources, Doolall said he agreed to this arrangement.
Meanwhile, the same story was related by Jagnandan. He told the Police that it was Bond who asked him to apply to NICIL for the land. Like Doolall, Jagnandan claimed that upon Bond's request, he wrote an Expression of Interest (EoI) and gave it to the attorney, who subsequently informed him that the lease had been granted.
He would have also signed his lease agreement on May 17, 2018 – the same day Doolall signed his.
Jagnandan told investigators that it was Bond who had arranged the buyer and that the lands were sold for $117 million. Of the $60 million that was paid so far, Jagnandan reportedly told Police that all the funds were transferred to Bond. (G2)