The Health Ministry reported two more COVID-19 related deaths on Saturday. These are a 16-year-old male from Region Nine (Upper Takutu-Upper Essequibo) and a 74-year-old woman from Region 10 (Upper Demerara-Berbice).
These two latest fatalities have now taken the local death toll to 509.
The death of the 16-year-old was announced by Health Minister Dr Frank Anthony on Friday during his COVID-19 update. The teen died on Thursday while receiving medical treatment. The teenager was said to have cancer, which was a major contributor to his death.
This 16-year-old is now the third child to have died from COVID-19 in Guyana since the outbreak of the virus in March 2020.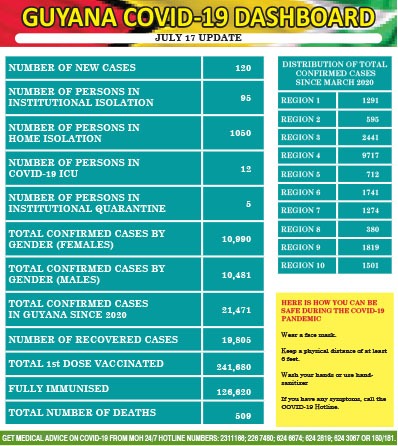 In November 2020, an 11-year-old cancer patient died while receiving treatment at the Georgetown Public Hospital and was later found be positive for COVID-19, and a 17-year-old boy of Covent Garden, East Bank Demerara (EBD), succumbed back in May after he tested positive for the virus.
This latest teen fatality, has led to the Health Minister again encouraging parents, to take extra precautions to ensure their children's safety, especially those with underlying health conditions.
"…the medical type masks are more suitable for children with severe medical conditions such as cancer and bronchitis and so forth, and it is recommended that they wear these types of masks as it protects them from getting these infections," the Health Minister urged in his COVID-19 update, adding that It was also noted that relatively healthy children can wear the regular cloth masks.
Guyana's COVID-19 guidelines require everyone over eight years old to wear a mask in public.
New cases
Meanwhile, Saturday's updated dashboard showed that 120 new COVID-19 cases were recorded.
The dashboard also stated that there are 12 patients in the COVID-19 Intensive Care Unit (ICU) and some 1145 persons in isolation, that is, 95 in institutional isolation and 1050 in home isolation. Also, there are still five persons who are in institutional quarantine.
A total of 19,805 persons have recovered from the life-threatening disease.
Since the outbreak of the pandemic in Guyana last year, 208,667 persons have been tested for the novel coronavirus so far, of which 10,990 females and 10,481 males tested positive.
Region Four (Demerara-Mahaica) accounts for the largest number of cases which is a total of 1917, whereby Region Eight (Potaro-Siparuni) has 380 cases in total.
The Health Ministry continues to remind the Guyanese population to observe the protocols of the COVID-19 Emergency Measures (No 19), which are in effect until July 31, 2021. This order emphasises the need for correct and consistent use of a face mask when leaving your home, the importance of maintaining the six feet physical distance from others, and the need for good hand hygiene to help reduce the spread of COVID-19.
If anyone is displaying any of the symptoms associated with COVID-19 or needs any additional information, kindly contact the COVID-19 Hotline 231-1166, 226-7480 or 624-6674 immediately or visit www.health.gov.gy.