As Government continues to roll out the "Because We Care" cash grant to children in the public school system, Vice President Dr Bharrat Jagdeo has revealed that consideration is being given to extending the initiative to students in the private school system.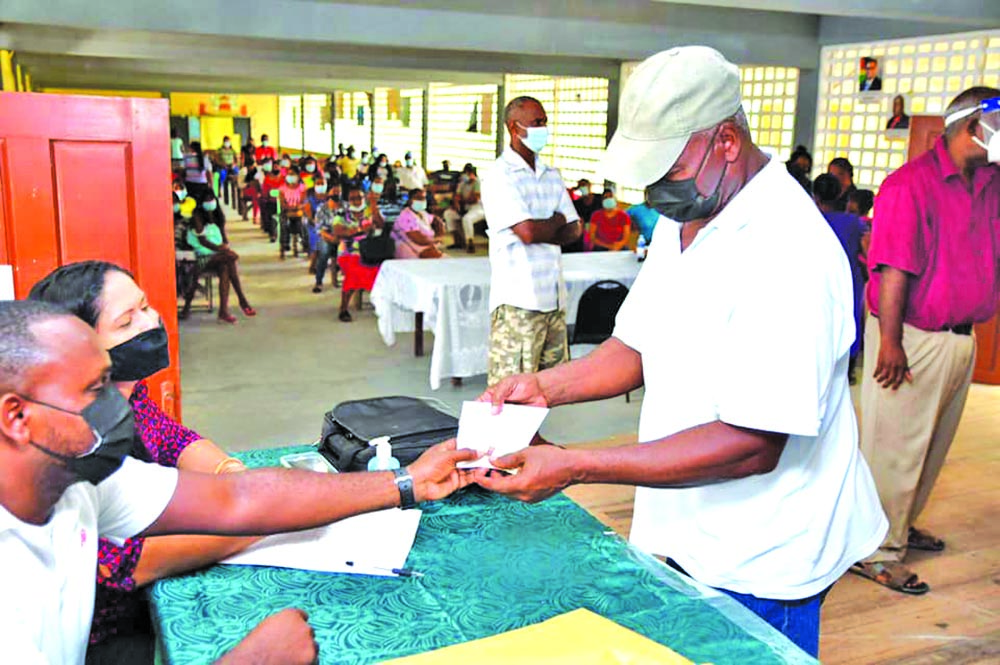 Last week, the People's Progressive Party/Civic (PPP/C) Administration reintroduced and rolled out the "Because We Care" cash grant, which was increased to $15,000. Additionally, with the uniform voucher also increasing to $4000, each child in the public school system will receive a total of $19,000 cash.
However, parents of students who attend private schools have been speaking out about the exclusion of those children from the $3.2 billion initiative.
In response to this, Vice President Bharrat Jagdeo during a recent interview with a social media commentator disclosed that Government is actively considering the extension of the "Because We Care" cash grant to public school students.
"We are actively examining, now, the possibility of extending the grant to kids going to private schools. Maybe not all of them will take but some parents have been making the solid case that they struggle at home to send their kids to private schools. It's not as though they're rich. And in a way, those kids who go to private schools, they take some pressure off public schools in terms of space. So, the Government will consider all the facts on the issue and we'll make a determination very, very soon on the matter," Jagdeo stated.
According to the Vice President, Education Minister Priya Manickchand is currently in the process of gathering the number of children in the private school system.
"…they're trying to verify the numbers and then to see, should we extend to kids going to private schools, how we're going to ensure that the intended beneficiaries receive the money without any leakage or corruption," he posited.
However, this announcement by VP Jagdeo will bring relief to some parents, who had expressed concerns over Government's move to make the cash grant available exclusively to public school students.
Government commenced the rollout of the "Because We Care" cash grant programme on Wednesday last in Region Two (Pomeroon-Supenaam) with many parents of public-school students praising the initiative and saying it will greatly help in assisting them to ensure that their children's needs are fulfilled.
But some parents took to social media to question the move by the Government to only give the cash grants to those children who attend public schools.
Nevertheless, Jagdeo reassured that the ongoing disbursement of the cash grants to children in the public education system is being overseen by the Auditor General to ensure transparency so that every child who is entitled to the grant receives it.
Disgust at APNU/AFC
On this note, Jagdeo expressed his disgust at the APNU/AFC Opposition's criticism of the initiative. He specifically called out Opposition Member of Parliament (MP) and President of the Guyana Teachers' Union (GTU), Coretta McDonald, who on Wednesday called the $3.2 billion cash grant initiative a waste of money and has since come under widespread criticism especially from parents and teachers.
"I was shocked that Coretta McDonald… is trying to get the teachers not to cooperate with Government in extending this grant. As an educator, she has failed miserably. She has allowed her jaundiced APNU politics to influence her and she's trying to use the Union to sabotage an initiative that will help the children of this country," the Vice President contended.
The "Because We Care" project was launched back in 2014 under the then PPP/C Government. It was implemented to provide support to parents with school-age children and increase their disposable income, to raise enrolment and attendance rates.
After taking office in 2015, however, the APNU/AFC Government scrapped the project, saying the treasury cannot afford to continue with the programme.
But the Irfaan Ali-led Government restored the initiative after taking office last year – a promise the PPP/C had made in its 2020 election campaign manifesto.
As such, in the $383 billion National Budget passed in March 2021, some $60.7 billion was allocated for the education sector. In keeping with its manifesto, the PPP/C Administration increased the "Because We Care" cash grant from $10,000 to $15,000. The party has promised a phased increase of the cash grant to $50,000 per child by the end of its five-year tenure in office.
Some 172,000 public school students are now expected to benefit from the programme this year, and unlike last year, the school uniform grant will not be given in the form of a voucher but rather as cash.
The distribution schedule for the "Because We Care" cash grant will be posted on the Education Ministry's Facebook page, the Ministry's website, and in the daily newspapers. (G8)