As the October Berbice Assizes opened on Tuesday, two persons pleaded guilty to the lesser count of manslaughter when their cases were called and as such, they are expected to be sentenced in two weeks.
Lennard Allen, 64, of Railway Line, Rosignol Village, West bank Berbice, Region Five (Mahaica-Berbice) was accused of killing his wife at their home on July 4, 2018 while Lincon Odell, also called "Shadow", confessed to killing an 86-year-old pensioner during the commissioning of a robbery on June 2, 2018, at Corriverton.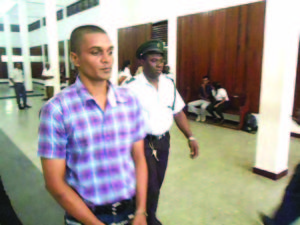 Both men appeared before Justice Brassington Reynolds and pleaded guilty to the lesser count.
State Prosecutor Seeta Bissoondial told the court that on July 4, 2018, 40-year-old Shabanna Eshack, also called "Geeta", was found lying on the floor in her bedroom dead.
She said the now deceased and Allen, who had been living together for four months, had an argument over the cooking of food when she was fatally injured.
The prosecutor related that the accused beat his reputed wife with a bicycle bar. The court heard that Allen claimed he became upset because the food was half cooked. He told Police that he hit her once to the head.
"Allen was 62-years at the time, he should have cherished her and not beat her like an animal," the Prosecutor told the court, while requesting that the sentencing reflects the gravity of the offence.
In mitigating, Attorney-at-Law Siand Dhurjon told the court that the accused had purchased two bottles of alcohol but when the Police arrived at the scene, only a quarter was left.
"They had an argument over the various partners that he saw her with. She ripped off his shirt and he lost his mind in that drunken state". Eshack had been a mother of seven.
As such, the court ordered a probation report to be presented on October 29 when Allen will have to return to court for sentencing.
Meanwhile, a probation report on Odell has also been ordered after he pleaded guilty to the lesser count.
According to the facts, on June 2, 2017 at Race Course Springlands, Corriverton, Region Six (East Berbice-Corentyne), he killed 86-year-old Fitzhubert Grimes.
The Prosecutor told the court that Odell was a regular visitor to Grimes' home and on the day in question, Odell strangled Grimes with one hand. Neighbours subsequently saw Odell coming out of the house with blood on his hands.
He then called out to neighbours for help saying that Grimes fell.
A Post-Mortem Examination gave the cause of death as manual strangulation. The deceased also suffered a fractured right collar bone, bruises to the neck and other parts of the body.
Odell told Police that he went and asked Grimes for a 'raise' but instead, she told him to find a job. This, he claimed, angered him, thus committing the crime.