Ganja in spare wheel
A 42-year-old minibus driver of Wismar, Linden was on Monday further remanded to prison by Magistrate Wanda Fortune after a quantity of cannabis was allegedly found in two of his spare wheels.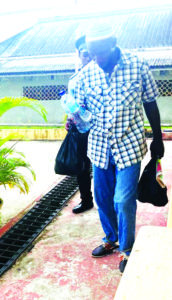 It is alleged that Seon Bakker, called "Akbar", a Route 72 minibus driver, had 28.148 kilograms of cannabis sativa in his possession for the purpose of trafficking at Mabura, Linden on Saturday, June 15, 2019.
The driver was represented by Attorney Yondessa Welcome-Mercurious. The case continued at the Linden Magistrate's Court on Monday with Police Lance Corporal Jermaine Tucker taking to the stand to testify as it relates to his involvement with the matter.
Investigations had revealed that Police ranks attached to the Mabura Police Outpost intercepted Bakker's minibus BNN 7872 about 17:00h on the day in question.
A search was conducted on the vehicle and Police ranks found two bulky wheels strapped to the top of the vehicle. The prosecution is contending that upon cutting open the wheels, the ranks unearthed a total of 29 transparent plastic bags which contained a quantity of leaves, seeds, and stems of the prohibited drug. Bakker allegedly informed ranks that he was given the wheels to transport to Mahdia, Region Eight (Potaro-Siparuni) by someone called "Country". At the time of the incident, there were two female passengers in the minibus, who were also arrested and questioned. Ranks also later arrested the person called "Country".
Bakker was remanded, and the case was scheduled to continue on October 29, 2019. Prosecutor Vernetté Pindar is expected to call several other witnesses as the case continues.