…says development of Guyana has been accelerated
The People's Progressive Party/Civic (PPP/C) Government, on the occasion of the anniversary of its second year in office, has assured that it has kept true to its elections manifesto and that in the coming months there would be more focus on constitutional reform.
In a video statement on Tuesday, President Dr Irfaan Ali spoke of all that has already been accomplished in line with his party's manifesto, while making it clear that he is cognisant that more remains to be done.
"Together, we have a lot to do. Together, we have already accomplished a lot. Together, we've overcome many challenges… as your chief servant, I continue to dedicate my energies and my life, in service to and for you. Indeed, I'm grateful for the supporters of the party, who took the step to vote for me in that 2020 elections," President Ali said.
"Your vote of confidence in me and the PPP, was a vote to give Guyana the best possible leadership. And I'm faithful to that confidence. And I hope and pray I'm not disappointing you, nor the Government that I lead, is disappointing you in using that confidence to serve all Guyana, in building one Guyana in which prosperity can come to every home."
According to the President, notwithstanding the challenges, there has also been tremendous progress in areas such as energy, agriculture, infrastructure and tourism, where opportunities abound.
"Every single area that we promised to work on in our manifesto, we're delivering. We're surpassing many targets already in the manifesto. Our housing programme. Our water development programme. Our job creation programme. Have all accelerated development in this country," President Ali also said.
Progress
In explaining how it has followed through on its election manifesto, the Government in a statement had meanwhile pointed to its housing programme, which has been expanded. They noted that land allocation, affordable turn-key housing and mortgage facilities are among the countrywide initiatives.
It was also pointed out that efforts have been made to diversify the traditional agriculture sector and promote value added production. Other growing industries include tourism, wellness and sports, where new sporting facilities are being constructed countrywide.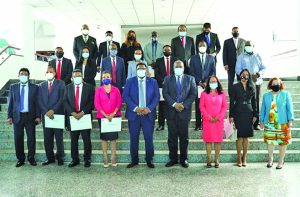 There is also the specialty, paediatric and maternity hospital, where the sod was turned only on Sunday. In addition, reference was made to all the new infrastructure being built, including the new Demerara and Corentyne bridges, Silica City and new highways.
"With regards to infrastructure, new interconnecting highways across the East Coast and West Coast, East and West Banks, the Corentyne and the Linden-Soesdyke Highway and the Pan-American route to Brazil are all under some phase of development or construction. New bridges across the Demerara and the Corentyne Rivers will fully connect the Guyana Shield and the new modern city earmarked for the Timehri-Soesdyke area."
According to the Government, the new industrial estates are planned for the East and West Coasts and Linden while natural gas being piped to shore from the offshore oil and gas basin, along with wind, solar and hydroelectric power will comprise a sustainable energy mix to power the country's economic transformation at lower costs.
In addition to all the social advances and electoral reforms which it noted is well advanced, the Government also pledged that in the coming months more work would be done on constitutional reform.
"President Ali and the PPP/C Administration have worked tirelessly to commence the process of re-examining our institutional frameworks and constitutional architecture needed to safeguard the integrity of our electoral process and democracy itself. The Government is well advanced with electoral reforms and will transition to broader constitutional reforms in the coming months," the Government said in its statement.
"Guyana's transformation will succeed, while the ballot box and the revised provisions of the Representation of the People Act will continue to be the basis of our democratic system for elections, and the integrity of the electoral process which produces a Government that reflects the will of the people, will remain sacrosanct."