Twenty-Three local fitness enthusiasts graduated on Sunday at the National Sports Resource Centre, Woolford Avenue, now qualified to train beginners in Weightlifting.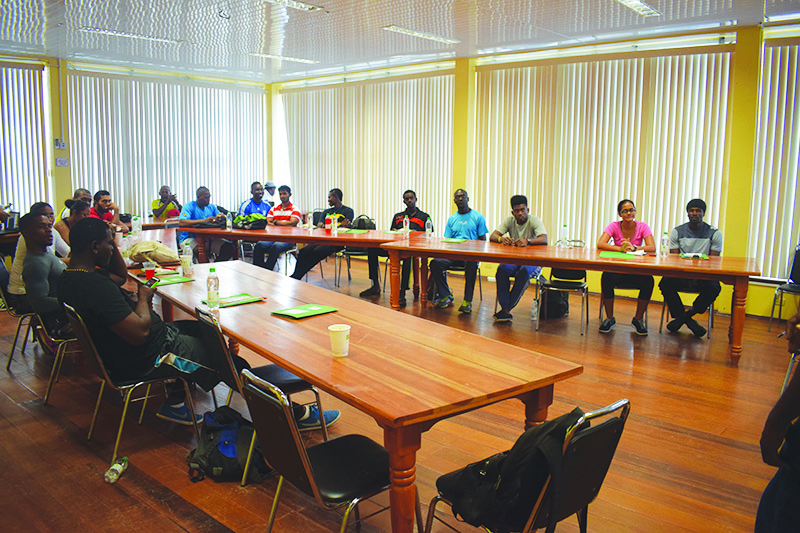 The program which gives the participants a Pan America Weightlifting Federation (PAWF) and International Weightlifting (IWF) qualification was organized by the Guyana Amateur Weightlifting Association and financed by the PAWF and IWF.
The 23 participants began their training on Friday December 9  which lasted over three days, with each day going through the necessary paces which was administered by  course facilitator and world renowned sports scientist, Dr Kyle Pierce of the Louisiana State University, Shreveport Louisiana U.S.A
Speaking with Pierce, he explained that the programme was one of the better ones he has been a part of and the participants all showed a willingness to learn and elevate themselves to the level needed to succeed.
On the opening day of the training, Frank Tucker, President of the Guyana Amateur Weightlifting Association as well as Director of Sport Christopher Jones and Vice President of the Guyana Olympic Association (GOA) , Noel Adonis all were proud to have such a supportive turnout and encouraged those taking part to garner what was being thought in order to help advance the level of fitness sports in Guyana during their opening remarks.
Among those present at the event were 'Guyana's fittest man' Dillon Mahadeo, former President of the University of Guyana's Student Society Joshua Griffith and even an 84 year old former body builder, Miss Flex night winner, Nadina Taharally and other representatives from various gyms across the country.