…says billions more spent on community roads, agriculture, D&I
Residents along the Essequibo Coast were on Tuesday given updates on how much the People's Progressive Party/Civic (PPP/C) Government has invested in Region Two (Pomeroon-Supenaam), including over $3 billion that has been spent on developing new areas for the region's housing sector.
President Dr Irfaan Ali was the keynote speaker during the public meeting with residents of Supenaam on Tuesday. According to the President, billions of dollars in investments have been made in housing and infrastructure, in keeping with the party's commitments.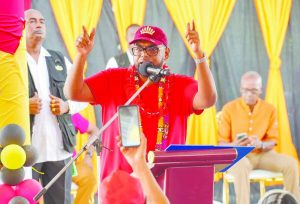 He further noted that the Government is investing in opening up tens of thousands of new acres of land for housing development. When it comes to roads, the President also revealed that 185 roads have been completed in that region alone since they returned to office.
"In this region alone, since we took office in less than three years ago, we have completed 185 roads from the Ministry of Public Works alone. We spent $5.8 billion on community roads in this region," the President said.
"In addition to that, the Central Housing and Planning Authority, and the Ministry of Housing and Water have spent $3.5 billion in building up new areas for housing. Let them point you to one new scheme they built in five years for housing in this region. Today as I speak to you, we have already allocated more than 720 new house lots in this region."
President Ali further spoke of his Government's investment in agriculture, drainage and irrigation. In fact, the President said that tens of millions of dollars has been spent on the agriculture sector, while over $1.6 billion has been spent on D&I.
"Hundreds of millions of dollars in D&I. We have excavators that are permanently in the Pomeroon. We have machines that are permanently along the coast, to support development in the agriculture sector."
"As a matter of fact, if you look at the flood relief that we brought to this community alone. Tens of millions of dollars. Support for fertiliser. The direct support of farmers. We're investing to ensure that every single stakeholder benefit from the transformation."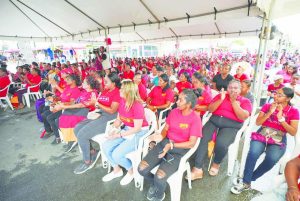 The Government has set itself a target of delivering 50,000 new house lots by 2025. As of March, over 20,000 house lots have been distributed across the country. The Housing and Water Ministry had wrapped up 2022 with the success of distributing more than its targeted 10,000 house lots for the year. With a plan of allocating 50,000 house lots in its five-year term in office, this translates to 10,000 per year.
Since Government took office in 2020, the Ministry has started the process of establishing about 16 new housing areas across Regions Three, Four, Five, and Six. For just the East Coast, where seven of these schemes are being developed, some $10 billion has already been expended for the first phase of infrastructural works.
The outreach to Region Two forms part of a massive campaigning exercise being undertaken by the PPP/C ahead of Local Government Elections on Monday. LGE, which is constitutionally due every two years, was last held in 2018. At the November 2018 local government polls, the then PPP/C Opposition had secured 52 of the 80 Local Authority Areas (LAAs). This had followed the holding of the LGE in 2016, during which the PPP/C also claimed the majority of the LAAs.