…after Canada announces visa-free access for 13 other countries
In the wake of Canada announcing a list of countries that will have the opportunity for visa-free access to Canada – a list that Guyana was not included in, the Georgetown Chamber of Commerce & Industry (GCCI) has urged the Canadian Government to make visa-free travel for Guyanese to Canada a reality in view of the mutual benefits it will bring to both countries.
The 13 countries were added to an electronic Travel Authorisation (eTA) programme that will allow citizens who hold a non-immigrant US visa or who once held a Canadian visa in the last 10 years, to apply for an eTA instead of a visa.
According to GCCI in a statement, while the Canadian Government has been open to allowing visa-free access to their territory, it is reiterating its own call for Guyanese to be afforded visa-free access to Canada.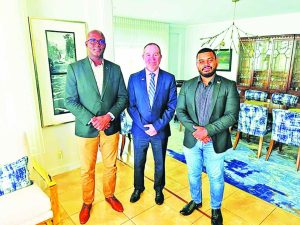 "Having established diplomatic relations with Guyana since 1964, the two countries have developed strong economic and commercial ties, developed on mutual respect for democracy and enterprise. Currently, Guyana is the third largest merchandising partner with Canada in the Caribbean Community and is one of the fastest growing economies in the world."
"The GCCI itself continues to deepen relations with Canada, having established MoUs with a number of sister agencies in the country, hosting and fielding trade missions and continuing to work to support partnerships between Guyanese and Canadian companies," the Chamber also said.
Pointing to the fact that Guyana has a diaspora of over 85,000 living in Canada, they noted that the removal of the visa restriction of Guyanese to Canada will help to grow trade relations, support deeper commercial and economic ties and support economic growth for both territories.
"The GCCI thanks the Government of Canada and the Canadian people for its continued leadership role in global affairs, support for Guyana's development and anticipates continued cooperation with both the Government and private sector of Canada," GCCI also said.
The 13 countries that have been added to the eTA are Antigua and Barbuda, Argentina, Costa Rica, Morocco, Panama, Philippines, St Kitts and Nevis, St Lucia, St Vincent and the Grenadines, Seychelles, Thailand, Trinidad and Tobago and Uruguay.
As recently as April 2023, GCCI's recently elected President, Kester Hutson, and Senior Vice President Richard Rambarran had met with Canadian High Commissioner Mark Berman at his residence in Bel Air Gardens. In a statement afterward, GCCI explained that both sides discussed the issue of visa processing for Guyanese citizens seeking to enter Canada, as well as the need to improve transportation infrastructure for cargo shipping and direct flights between the two nations.
"The High Commissioner assured Hutson and Rambarran that discussions were underway to remove visa restrictions altogether in the future, a decision that both parties are optimistic about," GCCI had explained.
Last year, Berman had revealed to the media that the Guyana Government had approached Canada, seeking visa-free travel for visitors. It is a request that had been forwarded to Ottawa, which is Canada's political centre.
During a reception in honour of the visit of Energy NL Trade Mission to Guyana, Berman had also announced that the High Commission in Georgetown is pushing for a Canadian airline to offer non-stop services between the two countries.
The Government's talks with Canada on visa-free travel also follow similar talks it has entered into with Italy, for visa-free travel. Talks with Italy were initiated when Foreign Affairs Minister Hugh Todd met with the Non-Resident Ambassador-Designate of the Republic of Italy, Fabrizio Nicoletti, last year.
A release from the Foreign Affairs Minister noted that the two officials spoke on improving bilateral relations between the countries and visa-free travel is viewed as a key pursuit.
It also follows the removal of visa restrictions for visitors to the United Kingdom (UK).
Since November 9, 2022, holders of a valid Guyanese passport have no longer required a visa to enter the UK, following a decision by the UK to remove visitor visa requirements for Guyanese to travel to their country, for up to six months.