Three persons were killed late on Wednesday evening after the truck in which they were travelling turned turtle along the Linden-Soesdyke highway in an accident that reportedly occurred at about 23:30h in the vicinity of the Kuru Kuru College Road.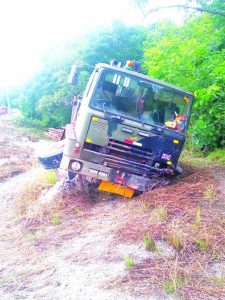 That accident involved motor lorry GNN 4083, which at the time was being driven by a 47-year-old resident of Timehri, East Bank Demerara.
The dead men have been identified as Michael Edwards of Timehri Base Road, and Wilfred Phillips and Alicious Squad, both of communities in the Pomeroon River, Region Two.
Based on reports received, the truck, which was laden with lumber, was proceeding along the Linden-Soesdyke Highway when, as alleged by the driver, he saw something running across the roadway and he swerved left to avoid a collision, but instead lost control of the truck.
As a result of his losing control of the vehicle, the left side wheel collided with the barranca, causing the vehicle to topple several times before coming to a halt in a ditch. The three victims, who were all seated atop the lumber, were pinned thereunder as it came to a stop.
After a few hours had elapsed, the injured men were pulled from the wreckage and rushed to the Diamond Diagnostic Centre, where they were pronounced dead. Their bodies are at the Memorial Gardens Funeral Home.
Police have said that a breathalyzer test conducted on the driver of the truck, who escaped with minor bruises, revealed there was no alcohol in his system. He remains in custody, assisting with the investigation.