…says US$11B needed to unlock Caricom's potential
…as US helps Guyana examine its hydropower potential
With the Caribbean region moving its development in a low carbon and climate- resilient way, President Dr Irfaan Ali, while delivering remarks at the Fourth Regional Committee Meeting of the International Solar Alliance (ISA) for Latin America on Thursday, charged policymakers to implement a realistic pathway to finance this transition.
The renewable energy market in the Caribbean Community (Caricom) is estimated at a whopping US$16 billion, and President Ali pointed out that US$11 billion is needed over the next decade to unlock the region's renewable energy potential. To acquire these funds, he has urged countries to tap into their abundance of natural resources, noting that Barbados, Guyana, Suriname, Trinidad and Tobago, and Brazil will play a key role in achieving this target.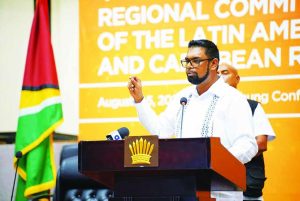 He said the funds earned from Caribbean nations utilising their natural resources should be used to finance mitigation and adaptation measures for climate change, which severely affects small island developing states (SIDS).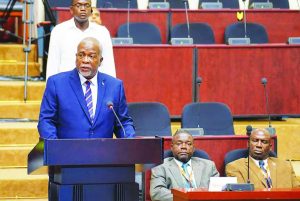 "This region cannot ignore its natural assets; there are some natural assets that we have that we will have to deploy. We must deploy (them) for the advancement of our people, and raise the finances that are necessary for adaptation and mitigation. Let us face it, we are no way close to meeting five percent of the adaptation and mitigation costs for the developing world. Who is going to finance it? There is no clear pathway where that financing is coming from. Loans are not the sustainable answer, especially when it is variable interest rates' loans."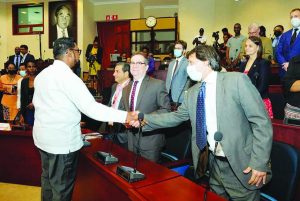 Not cheap
He admitted that the transition process is not cheap. "We must not fool ourselves that the transition is a cheap process. We have not mastered the technology, nor have we been able to demonstrate from a financial and economic model that any single transition application is sustainable in the long run," the Guyanese Head of State told those gathered at the Arthur Chung Convention Centre (ACCA) at Liliendaal, Greater Georgetown.
At the meeting, ISA member states would review and align their strategic priorities and regional initiatives in the area of solar power generation with the goals of the ISA. As such, the President has implored policymakers to craft transitional plans that fit the reality of what the region faces. He said that plan must include the following: "The reality of where our economic positioning is, the reality about where our economic development formula wants to take us, the reality about what our people can afford, the reality about what our debt to (Gross Domestic Product) ratio is, the reality of the capital cost of the technology we want to deploy."
In affirming Guyana's commitment to transition to cleaner energy, he said, "If we say that we are not on a path to transition into cleaner energy and renewable energy, then we are not a part of the global framework that will save and sustain livelihood on earth."
Caricom has committed that, by 2027, 47 per cent of its power would come from renewable sources; namely solar, wind, biomass, and hydrogen. Since Barbados is leading the region in renewable energy, President Ali said, this country is an excellent example of how "we can develop an economic model that can show us what is viable" at the household and national level.
To realise Guyana's enormous hydropower potential, a technical group from Guyana is working with the US Energy Department to examine the country's hydro project, President Ali has said.
National priority
Meanwhile, Prime Minister Mark Phillips, who holds responsibility for the country's energy sector, during an opening reception for the meeting, said Guyana remains committed to developing a low-carbon economy, with a transition to clean energy remaining a national priority. He also acknowledged the ISA's work in solar energy development at the local level.
"…I am extremely heartened by the timeliness of ISA's contributions in the area of solar energy development, for such assistance accords with Guyana's Low Carbon Development Strategy (LCDS), which promotes, among other things, the development of utility-scale solar PV farms, solar mini-grids, and solar home systems as part of our country's ongoing energy transformation."
ISA Director General Ajay Mathur has said the Latin America and Caribbean region has been extremely important to the ISA and the global solar energy eco-system.
He pointed out that the region is home to countries that have been identified as achievers in the ISA's ease of doing solar index, and countries that have been rising rapidly to achiever status. He noted that solar energy is the preferred energy choice of countries in the region, and, as such, urged member countries to identify strategies to mobilise investments to meet these needs in a technically and financially viable manner.
Several other Cabinet Ministers and Government officials and respective Ministers from the various Caribbean and Latin American countries were also at the event.
The International Solar Alliance is a member-driven, collaborative platform aimed at increasing the deployment of solar energy technologies as a means of enhancing energy access, ensuring energy security, and driving energy transition in its member countries.
The ISA seeks to develop and deploy cost-effective and transformational energy solutions powered by the sun, to help member countries develop low-carbon growth trajectories with particular focus on delivering impact in countries categorised as least developed countries (LDCs) and small island developing states (SIDS). (G1)