Within the first two weeks of May, Guyana has recorded 39 coronavirus-related deaths and an alarming 1764 new cases.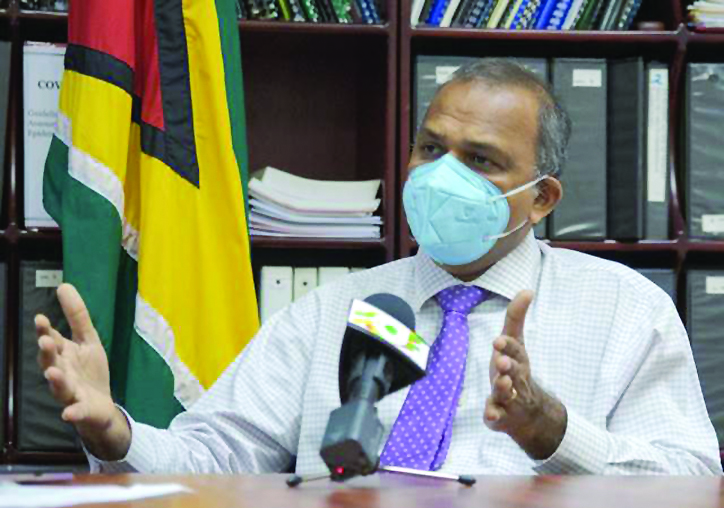 On Saturday, the Health Ministry announced that three more persons succumbed to the virus, raising the country's death toll to 338. The latest deaths are three females: an 80-year-old and a 72-year-old from Region Four (Demerara-Mahaica); and a 40-year-old from Region Six (East Berbice-Corentyne).
They all died while receiving care at the respective medical facilities, raising May's deaths from the virus to 39. For the week, 13 persons lost their lives to the novel disease.
New cases
Meanwhile, another 180 positives were also confirmed from 1053 tests. As such, the total confirmed cases moved up to 15,168.
In the facilities, 16 patients are in the Intensive Care Unit, 106 in institutional isolation, 1822 in home isolation and 10 in institutional quarantine. Active cases are at 1938 while 12,889 persons have completely recovered. To date, 136,112 individuals were tested.
The dashboard has pointed to an increase of cases across all regions; with four new positives in Region One (Barima-Waini); six in Region Two (Pomeroon-Supenaam); 30 in Region Three (Essequibo Islands-West Demerara); 98 in Region Four (Demerara-Mahaica); 20 in Region Five (Mahaica-Berbice); two in Region Six (East Berbice-Corentyne); two in Region Seven (Cuyuni-Mazaruni); one in Region Eight (Potaro-Siparuni); five in Region Nine (Upper Takutu-Upper Essequibo) and 12 in Region 10 (Upper Demerara-Berbice).
Health Minister, Dr Frank Anthony has notified that if positive cases are detected at workplaces, the companies should reach out to the regional task force so that the situation can be contained.
"In every region, we have a Regional Health Officer and in each of those regions, they also have a regional COVID task force. In whatever region you're operating in, what you need to do is contact either the Regional Health Officer or anyone from the regional task force and they would be able to guide you," he shared during the latest coronavirus briefing.
He advised that the Regional Health Officer would be able make arrangements in a timely manner. If someone was exposed, the quarantine protocol would be implemented to prevent a spread. Thereafter, they will be tested.
"If they test positive, then we would have to isolate and to get all that person's contacts so that we can reduce the spread of the infection. Each one of the regional teams by now would have good experience in managing these things. We continue to use the two options that are available to us; that is if you're positive, you can use the option of isolating at home or one of our institutional isolation facilities."
Vaccine hesitancy
He had notified earlier in the week that more outreaches are organised for this weekend, so as to increase the vaccination numbers. Regions Eight and 10 are still facing vaccine hesitancy, causing officials to reach out to these communities.
"We will be doing a lot more outreach work this weekend. I know the teams in the different regions have been planning outreaches so over the weekend, there will be many more sites. On average, we're hoping to operate close to 100 sites. People on the weekends have a little more time so perhaps we'll see a better uptake," the Minister had stated.
In the Americas, there are over 65.5 million detected cases and over 1.5 million deaths.
If anyone is displaying any of the symptoms associated with COVID-19 or needs any additional information, contact the COVID-19 Hotline 231-1166, 226-7480 or 624-6674 immediately or visit www.health.gov.gy.
Misinformation
On another issue, the Health Ministry on Saturday rejected claims that a Region Six woman died after taking the COVID-19 vaccine.
Labelling the information pedalled as "mischievous and unsubstantiated", the statement clarified that the woman took the vaccine on April 17 at the Skeldon Hospital and was due to return for her second dose on May 19, 2021.
"The Ministry wishes to clarify that there is no evidence that her death is linked to the COVID-19 vaccine…The Government of Guyana, through the Ministry of Health, encourages everyone 18 years and older to visit a vaccination site in their community and get vaccinated against the deadly COVID-19 disease. The Ministry wishes to reiterate that the COVID-19 vaccines being administered are safe and effective," the statement added.
Over 160,000 persons have since taken the vaccine, and there has been no reported complications or deaths. (G12)