– domestic violence victim tells her story of fighting for survival
By Andrew Carmichael
Violence against women is one of the issues that has reached an epidemic level in Guyana. Though there are efforts to have that addressed, it seems as though every time we take a step forward, we get pulled four steps back.
The battle is constant and relentless.
The United Nations estimates that almost one in three women have been subjected to some form of violence in their life. The major perpetrator of the violence is quite often their intimate partners, ex-husbands or boyfriends.
With the COVID-19 pandemic and limited moving around, women still living with abusive partners are even more at risk of being abused.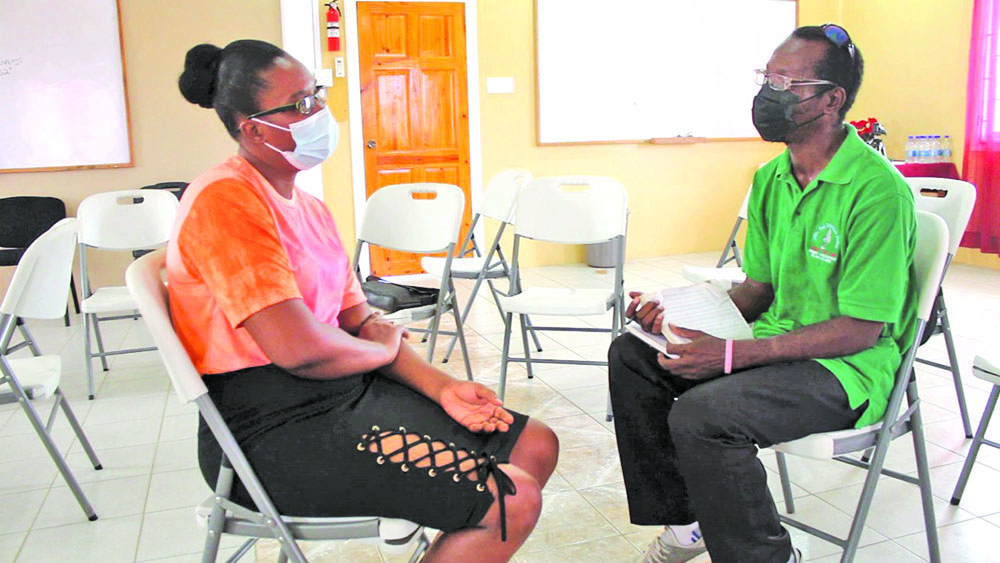 Abuse not only affects the direct victim but also those around them, especially if there are children around.
In Guyana, violence against women is forever on the table and there are numerous interventions but the it seems as though we are yet to even begin curbing it. Women are constantly being killed or maimed and it is true that the reported numbers far exceed the reality.
The Sunday Times recently sat down with mother of three and domestic violence survivor, 42-year-old Yonelle Lewis who shared her story with us.
Lewis is now dependent on friends for food and other essentials after walking out of an abusive relationship with her three children. She left after she was hospitalised from some of the physical abuse meted out to her.
Abuse is not a notion that is foreign to Lewis because it has been something she experienced from her early days. Her parents were the first perpetrators of violence against her. She was the eldest child, which meant a lot of the responsibilities fell on her and when she fell short, it was hell.
Her other siblings did not suffer the same fate since they received much love and caring from her parents. They were spared the rod, she was not.
"I was abused from a very early age by my mother and father then I got married at the age of 17 years because my mother said I was too much for her to handle. As a child coming up, I was the Cinderella girl. I had to do everything. I had to do all of the work and then if I don't do it, I will get licks. At one point my mother even chopped me because of not finishing what I was supposed to have finished in time," she related.
While this may sound familiar to a lot of people, to a lesser extent, it does not mean that it should be normal. Those experiences have shaped Lewis's outlook of life and she thought that the abuse was normal.
When she got married at the age of 17, the then young woman thought that she was leaving the abuse behind but little did she know, life was going to deal her another wrong hand. After getting married, she realised that the events in her life were familiar to what she thought she left behind.
She had to be cooking and cleaning for her in-laws.
"I got married but that became another challenge because I have to deal with him, his mother and sisters."
Her husband was not providing financially for her and was seldom at home.
"Sometimes I see him only at night and when he comes, he only wants sex."
She explained that the marriage got to a point where they only had sexual intercourse if her husband paid her for it.
"Because he wasn't giving me money and that was the only way I could get money and could eat. I went months without eating proper meals," the woman revealed.
That marriage lasted for seven years and resulted in one child.
After she left that marriage, Lewis had no job and no means of providing for her child since the father was not doing so. She needed someone to depend on and that was when another man stepped in. Initially, things were going well in that relationship and she thought that she was now in a place where she could be happy and not face constant beatings, taunting and deprivation of basic necessities.
"After 7 years of living in hell, I left that relationship and I got involved in other relationships which did not work out well because he was also abusive to me."
That second relationship resulted in another child but ended after her partner started using illegal drugs and had a mental breakdown.
She subsequently left and went back to her father, who was living with her new stepmother. There, she was advised to reunite with her husband and acted on the advice, but it did not work out.
Again, the then mother of two, found herself entangled with a new lover. Lewis said she remained single for four years but after experiencing some medical problems, she was advised by her doctor to have a partner. Acting on the doctor's advice, Lewis met a man who later sent her to the hospital with a broken jaw.
Quite a large number of relationships start on Valentine's Day, but Lewis said hers ended on Valentine's Day.
"I ended up in the present relationship I was in from 2015, but we started living together four years ago until he started hitting me. It was twice and the recent encounter left me with a fractured jawline."
She was hospitalised for a week and moved out two days after.
However, she never filed a Police report because she "didn't want a story."
"I was ashamed that if this gets out it would cause problems for me and the kids because I was still living with him. But when I came out of hospital there was another woman in the house. So, I spoke with my friend and I left knowing there is no turning back. So, I am encouraging women not to accept violence of any form from a spouse.
"There is help for them. Just like I came out of it, they can also come out of it. There are people that they can reach out to, they just need to take the first step," Lewis advised.
She is currently being supported by friends.
"Had it not been for them, I might be on the streets. One friend is paying my rent presently and I am looking to do something on my own as a woman. I want to take care of my own kids."