The bodies of cousins Bibi Jeffrey, Belnisa Evans and Loreen Evans were laid to rest on Tuesday in a solemn farewell at their home village of Karisparu, Region Eight (Potaro-Siparuni), following the tragic fire at Mahdia Secondary School's female dormitory that took their lives and the lives of 17 others.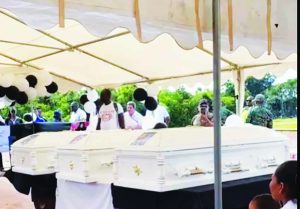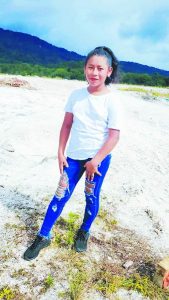 Students and residents of Mahdia gathered at the town's airstrip to bid their final goodbyes to the late Bibi Jeffrey and the Evanses before their bodies were flown to Karisparu, to be buried in the presence of their families. The funeral was attended by Prime Minister Brigadier (retired) Mark Phillips, acting as President, who was accompanied by Public Works Minister Juan Edghill.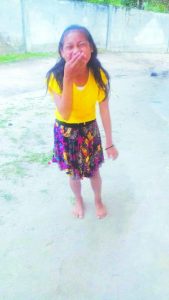 "I miss [Bibi Jeffrey] a lot…my heart breaks every time my mind recalls the calls I received the night about the fire," said Rihanna Jeffrey, sister of Bibi Jeffrey, in a social media post. "She was quite [a] simple, humble child, well-groomed, well-trained with manners, respect and always willing to assist in whatever little way she can. She never [gave] us trouble at home. She was a true angel in human form living among us," Rihanna Jeffrey wrote.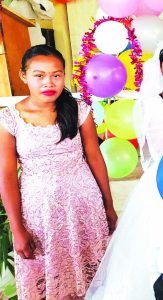 Last Wednesday, 16-year-old Sabrina John of Karisparu was laid to rest in her home village. Hers was the first funeral of the Mahdia fire victims. The funeral of the dorm mother's five-year-old son is expected to occur today (Wednesday May 31), while that of eight other girls are set for Thursday at Micobie.
In addition to supporting funeral arrangement needs, the Government continues to offer financial aid, counselling, and individualised ministerial support to survivors, families, teachers and community members, where deemed fit. A dinner held by President Dr Irfaan Ali on Sunday also gave families the opportunity to voice their concerns and seek assurance from the Government on the commitment to their promises.
Meanwhile, 13-year-old Sherana Daniels, who had been taken to the Georgetown Public Hospital (GPHC) for further treatment following the fire, succumbed to her injuries shortly before 10:00h on Tuesday, now bringing the death toll to 20.