Sherana Daniels, a 13-year-old from Micobie village, is now the 20th person to succumb from the Mahdia Dormitory fire, the Health Ministry announced on Tuesday.
The death toll from the Mahdia fire, Region Eight (Potaro-Siparuni), on May 21 now comprises 19 female students from the dormitory and a five-year-old boy.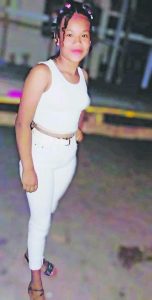 Information from the Health Ministry indicated that Daniels died shortly before 10:00h on Tuesday, while in the Intensive Care Unit (ICU) of the Georgetown Public Hospital (GPHC).
Daniels was the first victim of the Mahdia fire tragedy who was air-dashed to Georgetown in the wee hours of May 22. She was listed as critical before being medevacked to Georgetown, and remained on the critical list until her passing.
"We thank the doctors, nurses, and other staff members who worked assiduously with the hope that a miracle would be possible," the Ministry penned.
Guyana Times understands that the young teen had suffered from carbon monoxide inhalation and several episodes of cardiac arrest. She was initially pronounced dead at the scene, but first responders had managed to successfully resuscitate her. She was then brought to Georgetown for treatment.
Travesty of epic proportions
Human Services Minister Dr Vindhya Persaud, who has been working closely with the families following the tragic fire, spoke out on the most recent death moments before it was announced.
"Our Government and people of Guyana struggle with the loss of now today, 20 beautiful souls…It has been a travesty of epic proportions. It has devastated our people. I really am grateful for the outpouring of love and support from everyone…It has not been easy for Government to deal with the loss of so many young people," the Minister has declared.
Sending his condolences, President Dr Irfaan Ali also shared the following on social media: "We pray that her loved ones are granted strength and courage during this difficult period. My government and all of Guyana continue to keep you in our prayers."
Meanwhile, an update on the 13-year-old female who was air-ambulanced to the Northwell Burn Center at the University Hospital in Staten Island last Sunday has indicated that her condition remains stable and improving.
This young girl had the first of multiple surgeries on Monday afternoon. The Ministry has said she is doing well, and a positive outcome is expected.
"Her mom is with her, and her dad will be flown into NY this week to also be with them," the Ministry's statement read.
The girls who perished in the fire are: Subrina John, Belnisa Evans, Loreen Evans, Bibi Rita Fiona Jeffrey, Lisa Roberts, Tracil Thomas, Delecia Edwards, Lorita Williams, Natalie Bellarmine, Arianna Edwards, Cleoma Simon, Martha Dandrade, Mary Dandrade, Omerfia Edwin, Nickleen Robinson, Sherlyn Bellarmine, Eulander Carter and Andrea Roberts.
Adanye Jerome, the five-year-old son of the dorm mother, is also among those who passed.
In the early hours of May 22, the fire had already ripped through the Mahdia school dormitory after being maliciously set by a 15-year-old student. The facility housed about 59 students from the communities of Karisparu, El Paso, Micobie and Chenapau. Information from the Guyana Fire Service indicated that 14 youths died at the scene of the fire, while five died at Mahdia District Hospital.
On Monday, the teen suspect appeared virtually before Senior Magistrate Sunil Scarce at the Diamond/Golden Grove Magistrates' Courts, and was not required to plead to the 19 murder charges.
Magistrate Scarce ordered that she be held at a juvenile holding centre until July 4, when the matters will be called for disclosure of statements. (G12)