…increased integration, monetary policy & trade among proposals
President Dr Irfaan Ali addressed Heads of State at the Summit of South American Leaders being hosted by Brazil's President Luiz Inacio Lula da Silva at Itamaraty Palace, the headquarters of the Foreign Affairs Ministry of Brazil.
The summit was organised by President Lula and is the first time since the last Union of South American Nations (UNASUR) summit held in 2014 that the majority of leaders on the South American continent have gathered for a meeting focused on South American integration.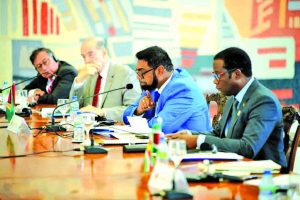 The other leaders attending the Summit were Colombian President Gustavo Petro; Argentine President, Alberto Fernández; Bolivian President, Luis Arce; Chilean President, Gabriel Boric; Paraguayan President, Mario Abdo Benítez; Surinamese President, Chandrikapersad Santokhi; Ecuadorian President, Guillermo Lasso, Venezuelan President Nicolás Maduro and Peruvian Prime Minister Alberto Otárola Peñaranda.
Based on information coming out of Brazil, a number of proposals were put forward during the summit that centred on increasing integration in the Region. Proposals included the mobilisation of development banks, a monetary policy and creating a common reference unit for trade that would reduce dependence on extra-regional currency.
Also proposed was improving trade between countries in the Region and reducing the bureaucracy inhibiting the export and import of goods. Also discussed was updating the project portfolio of the South American Infrastructure and Planning Council (COSIPLAN), a forum that aims to integrate South American infrastructure.
Also on the agenda was climate change, including developing actions to tackle it. A proposal was also made for the reactivation of the South American Institute of Government in Health and expanding vaccination coverage.
Another proposal was meanwhile made for increased cooperation in the area of defence, including knowledge exchange in military matters. A regional mobility programme for students and researchers was also proposed.
Zone of peace
President Ali, while addressing the leaders at the summit, expressed his support for the ideals of regional integration. He noted that there had been progress on linking northern Brazil with its neighbours including Guyana, Suriname, Venezuela, and Colombia.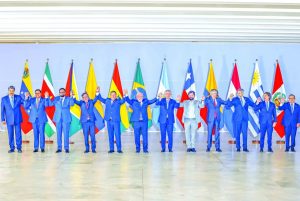 "For a matter of fact, we had started the integration of our infrastructure, with the bridging of northern Brazil with Guyana. So, there are stories of our successes and Guyana remains open to hosting any other such meeting, as we did before," the President said.
He noted, however, that there have been many changes since the days of UNASUR. This includes a more complex global environment where food security, climate and energy security have taken more prominence. He noted that the Region has all it needs to offer global leadership on these issues. But to do so, it must be a zone of peace.
"So, I see this summit, not as a crisis of ideology but this summit is at a time when we have a crisis of humanity, and I urge us to focus on the crisis of humanity and not a crisis of ideologies. We must support common interests and not work towards a common ideology but work towards the establishment of a common platform through which we can promote our common interests."
"We have to build a Region that must ensure that we are a zone of peace. This is most critical. Everything we do, must secure this Region as a zone of peace, as a Region that upholds democratic values and promotes the rule of law. Guyana stands committed to the values of ensuring our Region remains a zone of peace, in upholding democratic values and traditions, and promoting the rule of law."
Energy
Speaking on the energy crisis, the President noted that the role of fossil fuel and gas as a transitionary source of fuel has taken centre stage. He urged the Region to take a balanced approach to energy security.
"On the issue of food security, how do we as a Region, build a food ecosystem that integrates everything we do individually so that we can have food security, not only for this Region, but to security for the Caribbean?"
"How do we re-engineer our food production systems, our food distribution and logistics systems so that we play a greater role in the supply chain for the upturn? How do we use our competitive advantages individually, to bring collective success to the Region?" he further said.
President Ali further noted that of the $100 billion dollars that was promised to developing economies for climate adjustment, "not a cent has been allocated". He made it clear that the Region must have realistic targets that are based on balance and not extremism on either side of the equation.
When it comes to youth, President Ali noted the importance of their integration in the process and questioned whether they were setting the right examples as leaders. In terms of oil exploration, the President pointed to Guyana's own auction of 14 blocks, as an example of the possibilities of a balanced energy policy.
"We have shown that even with all of this, our country remains net zero. There can be balance. So, I want to end by urging us to focus on results, not to focus on ideology, but to focus on humanity, and to set ourselves targets that will make us different, targets that are achievable, and let us commit ourselves to be part of the global solution and not to be preached upon as to what those solutions are. We can do it together. We can do it with each other, and we must commit to do so," the President further said. (G3)