Two persons were rushed to the Georgetown Public Hospital late Saturday afternoon following a three-vehicle collision at Homestretch Avenue and Vlissingen Road, Georgetown. The accident occurred around 16:00h.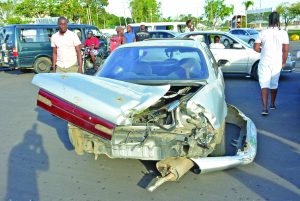 According to eyewitnesses, a speeding Route 41 minibus, which bore registration number BVV 3571, was proceeding west along Homestretch Avenue when one of its front tyres suddenly had a "blow out".
This resulted in the driver losing control of the minibus and colliding with a Route 48 minibus, BTT 9774, as well as a Toyota Sprinter motor car, PGG 4328.
Two passengers in the Route 41 minibus suffered minor injuries. Guyana Times was told by an eyewitness that blood was seen on at least one of the two persons.
This newspaper understands that the driver of the Route 41 minibus, who is reportedly called "Terry", was also involved in another minor collision earlier on Saturday with a pick-up.
Minutes after the injured persons were transported to the hospital by a passing Route 45 minibus, Police ranks arrived on the scene and began conducting their investigations.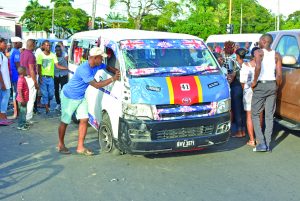 Amid an increasing and noisy crowd, ranks also had to intervene as two of the drivers were arguing over who or what was responsible for the three-vehicle collision.
Over the years, several accidents, many fatal, have been recorded along Homestretch Avenue and speeding is the main contributory factor.