After being diagnosed with Acute lymphoblastic leukaemia (ALL), with no available treatment locally, three-year-old Chayanne Parboo has been accepted to receive medical treatment overseas and departed Guyana's shores on Monday evening to begin her treatment journey.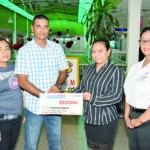 The young girl's parents, Verney Charles and Lakeram Parboo, are accompanying her at a hospital in the United States (US).
To cover flight and other expenses, local charitable organisation Saving Hands Emergency Aid (SHEA) has been raising funds by asking the public to donate. However, SHEA and the parents of Little Chayanne got closer to their financial target as they were presented with a cheque for $537,500 on behalf of Giftland Mall's proprietor, Roy Beepat, on Monday before departure.
At the brief handing over ceremony, Gaitri Ramjohn, the Mall's Corporate Sales Manager shared what motivated the businessman and his family to give generously to little Chayanne.
"Mr Beepat was inspired and he was moved when he saw the publication of Chayanne asking for help, so he wanted to do this on behalf of himself and daughters. So, I would like to encourage the general public to do the same and help save this little girl's life," Ramjohn said.
The child's father, Lakeram Parboo, expressed that prayers and every bit of assistance have contributed to a chance of saving his daughter's life, and, for this, he expressed his gratitude.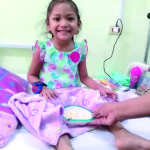 "It's prayers and the assistance and so from the public, I know there's other people in the same situation like us and if you don't ask for help or somebody to reach out to you, you would be stuck…I wanna say thanks to Mr Beepat and his daughters, and the general public who have donated whether blood, cash or advice."
Parboo added that a way forward for the child's treatment will be determined after an evaluation upon arrival in the US.
Meanwhile, lead volunteer of SHEA, Sita Sugrim shared that the three-year-old is guaranteed to have ideal medical care due to the fact that the partnering health facility has many successes in treatment including young Guyanese children.
"It's a top-rated hospital that has treated patients where other doctors had said there is no chance for them…this particular hospital that Chayanne is going to, doctors were able to treat him [another patient] he's back in Guyana living a normal life so that is assurance that she will be going to a top-rated hospital in the US," she noted.
SHEA is asking persons to donate towards the young girl's treatment. To do so, interested donors can call 677-5280 or 679-1784 or visit the organisation's Facebook page.