Finance Minister, Ashni Singh, on Monday evening announced a mammoth $4.3B budget for Sport in 2023; during the presentation of the National budget at the Arthur Chung Conference Center (ACCC), Liliendaal.
This year's massive budget allocation for Sport signals a vast improvement on allocations for previous years. In 2022, the sector received a whopping $2.2B allocation, which was at the time the highest that Sport had ever seen. That was also an improvement on the $1.5B allocation from 2021.
"The sum of $4.3 billion has been allocated in budget 2023 for the for the development of sport," Singh told the National Assembly on Monday evening.
This year's sport budget will cover major infrastructural work, for instance, a state-of-the-art Stadium at Palmyra, new facilities in the hinterland regions and the rehabilitation of the Cliff Anderson's Sports Hall (CASH).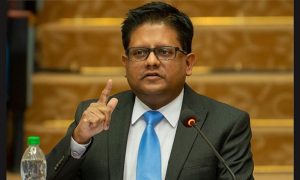 Singh explained, "Provision has been set aside for the establishment of a National cricket Academy, with the construction of the state-of-the-art stadium a Palmyra also slated for this year."
"Additionally, provision is made for other sports infrastructure and development, including construction of multipurpose sporting facilities in the hinterland, rehabilitation works at the Cliff Anderson's Sports Hall, construction of stands and grass mounds in Regions 2 and 6, extension of the Squash court at the National Racquet Center and procurement of sports gear," he further revealed.
The Ministry of Culture, Youth and Sport will also be able to continue their work on community grounds across the country, with a third consecutive budget allocation going towards that ongoing project.
"In addition, sir, the sum of $250 million is budgeted for the continued improvement of community grounds across the country," Singh disclosed.
The $2.2B allocated to sport in 2022 encompassed $1.4B for infrastructural works. Work for the Synthetic Tracks in Regions 6 (East Berbice- Corentyne) and Region 10 (Upper Demerara- Upper Berbice), the construction of multipurpose sport facilities in Regions 2, 6, and 10, erection of stands at the National Track and Field Center (NTFC), West Coast Demerara, rehabilitation works at the National Stadium, Providence and improvement of community grounds all fell under the infrastructural umbrella.
Meanwhile, in 2021 $1.5B was allocated to sport, with $320M of that sum going towards the development of professional athletes and coaches. Work to improve community grounds was also another major component in that budget.