By Brandon Corlette at Providence
The Guyana Harpy Eagles' first four-day practice match was completed inside three days at the Providence Stadium after 15 wickets tumbled on an overcast day.
Chanderpaul's XI completed victory by nine wickets, after restricting Veerasammy Permaul's XI to 186 all out in their second innings.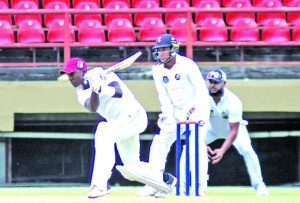 Kemol Savory, who made 170 in the first innings, hit the winning runs in a target of 20, as Chanderpaul's XI ended on 22-1 in 1.4 overs. Savory was unbeaten on 14 from six balls, an innings that had three boundaries while Tagenarine Chanderpaul was on five not out. Chandrapaul Hemraj was dismissed caught behind off Nial Smith for a golden duck.
The scores in the match were Permaul's XI 261 all out in 86 overs, while Chanderpaul's XI made 429 all out in 98.1 overs. In the second innings, Permaul's XI scored 186 all out in 53 overs, and Chanderpaul's XI made 22-1 in 1.4 overs.
Anderson shows
promise for Permaul's XI
Permaul's XI started their second innings trailing by 168 runs. Rampertab Ramnauth lived dangerously after pulling a Shamar Joseph delivery. The 17-year-old Ramnauth was eventually caught off a short delivery from Joseph.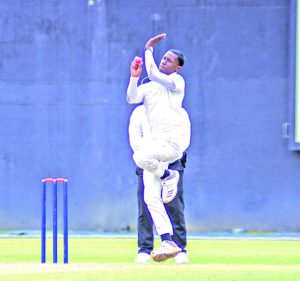 Joseph, a promising Berbician who was supported by his family in the stands, produced beautiful deliveries as he took control in overcast conditions. He produced a peach of an outswinger to remove the solid Tevin Imlach caught at the wicket for four. That wicket was Joseph's sixth of the match.
At lunch, Permaul's XI reached 26-2 with Matthew Nandu and Kevlon Anderson at the crease. In the afternoon session, Anderson started to groove in as he punched Demetri Cameron for four through backward point and then drove him to extra cover for four.
Gudakesh Motie then mesmerised Nandu, in an over where he kept the teenager on his front foot. Eventually, Nandu offered a return catch to Motie, ending his promising innings of 24 after he faced 52 balls. Nandu and Anderson featured in a 38-run partnership for the third wicket.
Akshaya Persaud had a nervy start to his innings as his teammates were buzzing with words upon his entry. Persaud's uncertainty at the crease was then exposed as Kevin Sinclair produced an arm ball to trap the left-hander at the crease for 15. Persaud had faced 38 balls in his scratchy innings.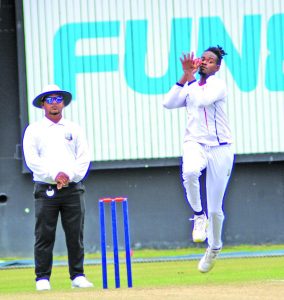 At 84-4, Shamar Yearwood partnered Anderson. The pair were involved in a mix-up, with both batsmen left running towards one end. Yearwood, the man from Malteenoes, displayed a lack of sportsmanship in his response to the run as Anderson, who was approaching a half-century, was run-out. Anderson faced 101 balls for his score of 40, an innings decorated with seven classy fours.
Garfield Benjamin was then dismissed for a duck off a top delivery from Jonathan Rampersaud, a dream off-break. At tea, Permaul's XI reached 131-6 from 41 overs, trailing by 37 runs. Yearwood was unbeaten on 20 from 29 balls, while Ronaldo AliMohamed was on four, after dispatching Rampersaud for a boundary off his first ball.
After tea, wickets tumbled, and Yearwood (21) was again involved in a run-out, and he departed on this occasion. AliMohamed, who struck a six, was out the next ball, as leggie Zeynul Ramsammy produced a full toss which saw the batter finding the fielder at mid-on for 13.
Ashmead Nedd (22) and Junior Sinclair (18) struck some boundaries, but the innings closed on 186 all out in 53 overs. Joseph claimed 2-17 while Kevin Sinclair had 2-20 in nine overs.
Beaton bounces out Chanderpaul's XI
Resuming the third day on 378-6, in overcast conditions, Chanderpaul's XI had a poor start when Kevin Sinclair failed to add to his overnight score of 40. He followed a short ball from Ronsford Beaton, and was caught at first slip with the score on 378-7 in 87.5 overs.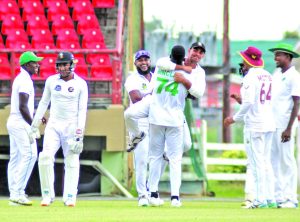 Clinton Pestano got off the mark with a streaky boundary past gully, but Beaton was breathing fire. He bounced out Antony Adams, who had stood firm in his 35-ball 23. Adams was caught at third slip off the bowling of Beaton after stroking four boundaries. Adams and Pestano added 31 runs for the eighth wicket, taking Chanderpaul's XI's score to 409-8.
Joseph looked uncomfortable, as he was troubled by the express pace of Beaton. He was removed for a duck, falling to a quick short ball from Beaton. Pestano, on the other end, played some delightful drives, stroking five fours in his 21. He enjoyed the bowling of Nial Smith, but he was circumspect against Beaton.
Number 11, Demetri Cameron took his chances against Beaton, as he stroked three fours in his 12. AliMohmaed claimed his second wicket of the innings when he removed Pestano with a short ball to end the innings of Chanderpaul's XI on 429 all out in 98.1 overs, for a lead of 168 runs. Beaton ended with 4-84 in 24 overs, including three maidens. AliMohammed had 2-27 in his 8.1 overs.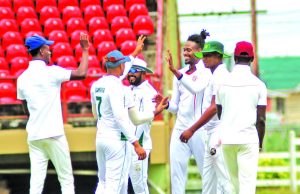 The Guyana Harpy Eagles are scheduled to play one more practice match ahead of the first-round match of the West Indies championships in Antigua, against Barbados from February 1.