Four GTT customers on Wednesday drove away with the grand prize of a new Toyota Raize as the company concluded its "Tis the Season" Christmas promotion with a big celebration at its 55 Brickdam location.
The winners are Ackulara Thomas of Linden, Region 10 (Upper Demerara-Berbice) and Callace Isaac from Vergenoegen, East Bank Essequibo, who both activated a social plan. The other winners Sunita Gossia, of Werk-en-Rust, Georgetown, paid her Guyana Power and Light bill and DSL bill using mmg+ and Dwayne Thom from Uitvlugt, West Coast Demerara (WCD), Region Three (Essequibo Islands-West Demerara), registered for Fibre service.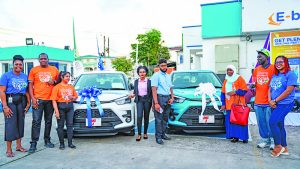 The promotion ran for eight weeks, and 10 customers were part of the grand prize draw after a preliminary process witnessed by auditors.
Thomas, who was the winner of the first car, said that she has been a GTT customer for more than 10 years and it was the first time she has owned a car.
"I'm so excited… I'm a mother of four; I'm self-employed; I have a small business and I do charitable work as far as Berbice. I have a motorbike, but it is the first time I will own a car," she said.
Isaac, the winner of a car also, said that he enjoyed using GTT's social plans and activated several bundles over the holiday season to enter into the promotion.
"The plan is great and you get a lot of data at a low cost, so I like it very much. I usually don't win anything in promotions so I didn't dream of winning a car," he said.
The customers, who were randomly called onstage, were challenged to reach into sealed boxes on a wall until they won a prize.
Latoya Mc Intosh, of Annandale, East Coast Demerara (ECD), qualified by paying her GTT Fibre, GWI and GPL bills via mmg+ and walked away with a 43-inch television.
"I'm overjoyed. I have three children and this is an early birthday gift from mommy," she said.
Four other customers also won consolation prizes. They are Maharanie Budhu, who won a bicycle; Ester Persaud, who won a 55-inch television; Berindra Nauth, who won a 43-inch television and Yvonne Kissoon, who rode away with an electric bike.
Throughout the duration of the promotion, customers won several other prizes, including mmg+ cash and shopping vouchers.