…urges youth to take up employment to construct 1st 100 homes at Silica City
As the Guyana Government looks to regularised housing developments across the country, President Dr Irfaan Ali on Wednesday announced that three new planned settlements will be established along the Linden/Soesdyke Highway to relocate scores of squatters currently occupying lands there.
The highway is currently lined with hundreds of persons who have illegally taken residence in scattered areas and in some cases forming an entire irregularised community. Previously, authorities have regularised some of these communities but persons have started to expand those areas thus continuing the squatting culture.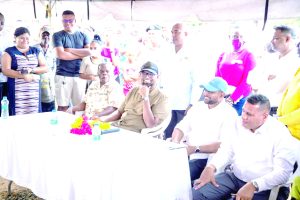 During a visit to several communities along the Linden/Soesdyke Highway on Wednesday afternoon, President Ali declared that this practice of squatting has to stop.
"So, what we're going to do in the entire highway, we are establishing three planned settlements where we're going to move all the squatters to planned settlements so you can have proper roads, proper water, proper electricity, proper school, proper health services. But you just can't continue expanding the squatting. It can't happen and then you complain about the condition [when] you're creating the condition… We have to stop the squatting on the highway," the Head of State stressed.
Housing developments
He went onto disclosed that by the end the first quarter of this year, those three planning housing developments will be identified and works will commence to prepare them for regularised occupancy. The president stated that there will be a holist approach to development of Linden/Soesdyke Highway.
"A lot of new squatters coming on the highway… and you cannot deal with development in a haphazard way… You have to do what is right. We have to learn to do what is right also… So, we're going to move all the squatters into formalised housing… [where] the infrastructure will be built around those settlements to take care of the children and elderly and everybody."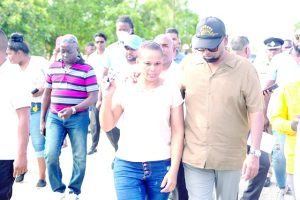 "I want you to live under good conditions and I want you to have your children grow up under good conditions. We can't grow up and live properly under squatting conditions. So, we all have to make sacrifices… We can't have squatter settlements if we want better for our children, for yourselves. You can't go to the bank with squatting lands so let's work on getting you to a legally planned area," the Guyanese Leader declared.
Works are currently underway to identify the three locations – approximately 200 acres – for these new regularised settlements. In fact, he disclosed that an exercise is currently being conducted to ascertain where large swats of leased lands are being unoccupied and recover those for development purposes along the highway.
One of the new squatting areas that have emerged in recent years along the Highway is called Circuit, where some 320 households of about 700 persons are currently residing illegally. During a brief engagement with the occupants there on Wednesday, President Ali pointed out that there has to be a compromise on the way forward.
This was after the residents expressed a desire the stay within the area or be relocated somewhere nearby.
In fact, they indicated that they are willing to make necessary adjustments to remain where they currently squat, which could include reducing the land space per household to regularised the area into a developed settlement based on lands legally available.
However, President Ali explained that due to the development of Guyana's first smart urban centre 'Silica City' along the Linden/Soesdyke Highway, the Guyana Lands and Surveys Commission (GL&SC) team will have to examine the plan for the project and ascertain whether the squatting area falls within the boundaries of it.
If that is the case, then an alternative location nearby will be looked at, he informed the residents.
"So, they can discuss with you what [lands you] have here and what are options close by… Let us work together in bringing some planned developments. In that way, you can get all the good facilities – water, electricity, proper roads and the value of these areas to improve tremendously," he stated.
Furthermore, the Head of State reassured that farmers who will be affected by this project and will have to relocate that Government will lend the necessary assistance to help them build up new lands to continue farming.
Employment
Moreover, President Ali also told the residents that soon construction will commence on the first 100 homes within Silica City and there will be employment opportunities for young people.
"[For those] who want to work in the construction sector, we are building a number of houses in this area… 100 homes we starting [to construct] very soon. They need workers. They need skilled, semi-skilled and unskilled workers," he posited.
The Head of State tasked Housing and Water Minister Collin Croal along with Minister with responsibility for Public Affairs Kwame McCoy with compiling a list of all those persons who are interested in these jobs and pass them onto the contractors so that they can be hired to work close by.
The Silica City is a brainchild of President Ali, who had proposed the establishment of a secondary city's in the country while serving as housing minister in 2013. So far, there are has been tremendous interests for countries and top international companies from around the world on the development of Silica City. (G8)