Three men were taken into Police custody after a boat was intercepted with a large quantity of marijuana along Mountain Charrow River, Aroaima Village, Upper Berbice River on Sunday.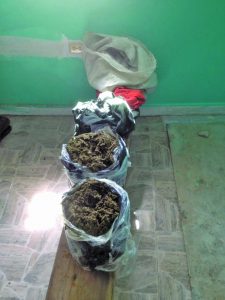 Based on reports received, Police ranks were on patrol when they observed a wooden boat being propelled by a 15-horsepower outboard engine with three occupants.
Upon noticing the Police, one of the occupants, Lamount Leacock also called "Farri", 29, of Kwakwani Waterfront, Upper Berbice River, reportedly jumped overboard with a grey tarpaulin and a bulky salt bag.
The ranks managed to intercept Leacock and a search was conducted on the salt bag during which two large parcels wrapped in black plastic bags and transparent scotch tape were found. Further checks unearthed a quantity of cannabis and as such, Leacock was told of the offence, cautioned, and arrested. The other two occupants of the boat – a security guard who is the owner of the the boat and a mason – all of Kwakwani, were searched but nothing suspicious found.
They all denied any knowledge of the drug found. They claimed that Leacock was 'taking a drop from them'.
The men were escorted to the Kwakwani Police Station where the narcotic was weighed in their presence, amounting to 5.68 kilograms. The men remain in custody as Police continue their investigations.