Rystad oil lecture
– says country could earn as much as US$15B from current discoveries
Guyana is projected to be ranked among the 30 largest nations in the 2020s for offshore oil services, says Sonya Boodoo, Senior Analyst at Rystad Energy, an independent energy consulting services and business intelligence data firm offering global databases, strategy consulting, and research.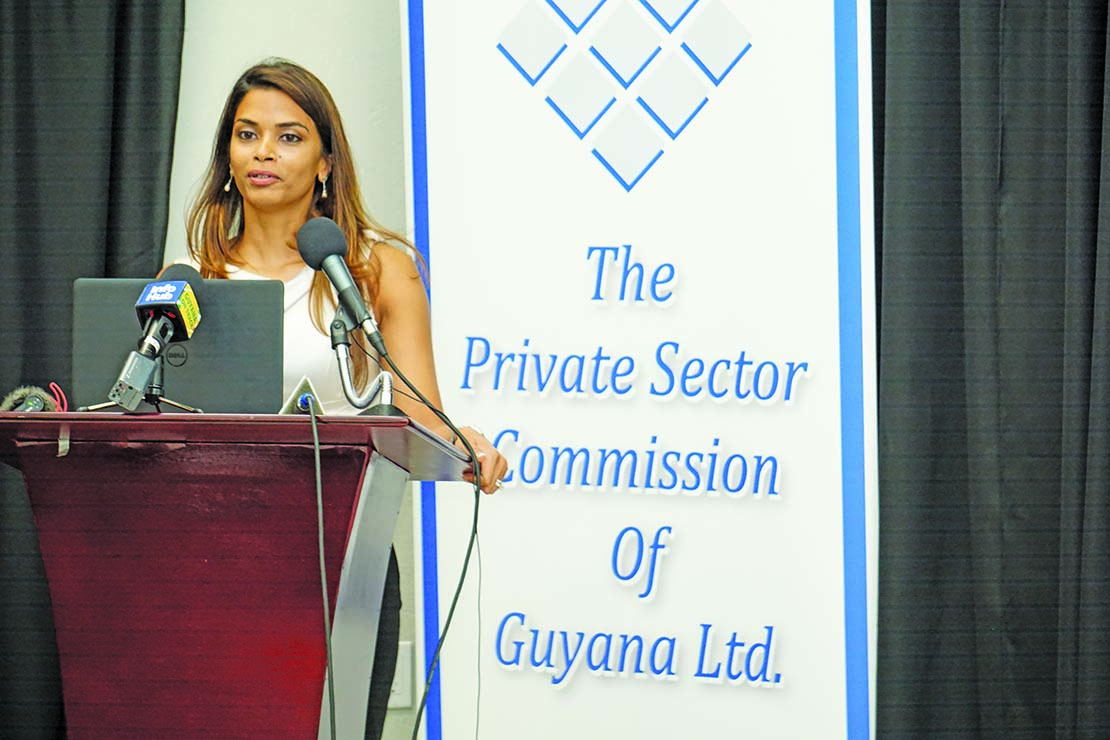 In delivering a presentation on Guyana's share of revenue from oil production and how this is related to international standards for revenue sharing, Boodoo told a small audience on Tuesday at Duke Lodge that the country has enormous potential even though it is a new frontier for oil and gas development.
In a detailed PowerPoint presentation, the Rystad senior analyst said that significant wealth was expected to be generated over the next several years based on oil production in Guyana. "Government is estimated to receive up to US$100 billion at US$70 per barrel oil price scenario if all discoveries are sanctioned."
Boodoo said based on her assessment of the raw statistics provided so far, she has concluded that the average Government take for Guyana is 59 per cent. She also added that Guyana's fiscal regime, although favourable in comparison to other offshore regions, is comparable to other frontier regions.
"Also, attractive terms are required to incentivise investment in frontier regions. And fiscal regime stability is a key consideration for E&P companies when making investment decisions," she added.
Boodoo stated that for all the discoveries in the Stabroek Block, the average income would be about US$15 billion and this could be as a result of ambitious development plan that would require at least three large Floating Production, Storage and Offloading (FPSOs).
"Second and third FPSOs larger capacity than the 120,000 barrel per day for Liza Destiny. Stabroek discoveries lie in water depths ranging from 1500 to 2700 metres and across vast distances of up to 150 km between wells … Development will also require extensive subsea infrastructure, having 60 to 100 wells to be drilled and about 12 to 20 rig years to be consumed," she explained.
Only recently, US oil giant ExxonMobil announced another oil discovery following drilling at the Longtail-1 exploration well in the Stabroek Block offshore Guyana. This is ExxonMobil's eighth oil discovery offshore Guyana. The company said in a statement that the well encountered approximately 256 feet (78 metres) of high-quality, oil-bearing sandstone reservoir.
At present, the Noble Bob Douglas is completing initial stages of development drilling for Liza Phase 1, for which ExxonMobil announced a funding decision in 2017.
The company said Phase 1 would consist of 17 wells connected to a FPSO vessel. This is designed to produce up to 120,000 barrels of oil per day.
Meanwhile, Phase 2 concepts are similar to Phase 1 and will involve a second FPSO with production capacity of 220,000 barrels per day. A third development, Payara, is planned to follow Liza Phase 2.
Only in late February, ExxonMobil had announced its seventh oil discovery at its Pacora-1 well. The company had said it encountered approximately 65 feet (20 metres) of high-quality, oil-bearing sandstone reservoir. The well was safely drilled to 18,363 feet (5597 metres) depth in 6781 feet (2067 metres) of water. The Pacora-1 well is located approximately four miles west of the Payara-1 well.
ExxonMobil had announced project sanctioning for the Liza Phase 1 development in June 2017. Following Liza-5, the Stena Carron will conduct additional exploration and appraisal drilling on the block.
The Stabroek Block is 6.6 million acres (26,800 square kilometres). Esso Exploration and Production Guyana Limited holds a 45 per cent interest in the Stabroek Block. Hess Guyana Exploration Ltd holds 30 per cent interest and CNOOC Nexen Petroleum Guyana Limited holds 25 per cent interest.