…forestry sector was "destroyed" in 5 years
Natural Resources Minister Vickram Bharrat on Friday delivered a fiery debate in the National Assembly, schooling the Opposition bench on the alarming state of affairs in which the coalition left several sectors under his remit.
He particularly noted that under the former APNU/AFC regime, the bauxite industry dwindled by over 40 per cent after operators were "chased" from their operation base. Now, he noted that Government is engaging Russian Bauxite Company, RUSAL, to restore their operations and ulti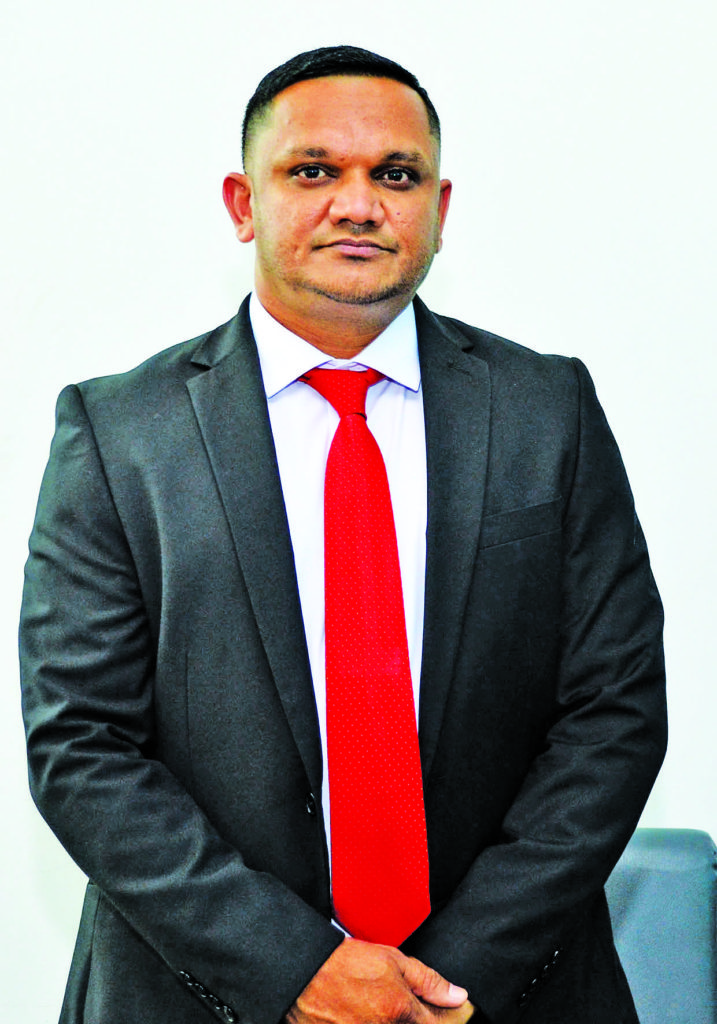 mately save the jobs of workers who were placed on the breadline.
"It is the APNU/AFC that reduced bauxite to what it is today. Under the APNU/AFC, bauxite declined by over 40 per cent…They sent home RUSAL and six hundred workers. They chased Oldendorff and RUSAL out of this country. They blocked the river, preventing the company from going into the location. Thanks to the PPP/C Government, we have the company there providing electricity and water for those poor villages along the Corentyne River. We are still trying to get the company to go back into operation," the Minister highlighted.
Last year, RUSAL was in talks with the new People's Progressive Party (PPP) Government over returning to Guyana. But the Government made it that workers' rights is of paramount importance if the company were to return.
RUSAL's Bauxite Company of Guyana Incorporated (BCGI) subsidiary left Guyana in February of 2020, amid industrial unrest from their workers, terminating 326 employees in the process. Prior to their decision to leave, BCGI was facing difficulties that included low production. In addition, when the company had initially announced its decision to terminate workers, it stated that it was experiencing difficulties after the former Government ended its duty-free arrangement for its fuel.
Forestry
He also turned his attention to another sizeable sector, the Guyana Forestry Commission, which had been left bankrupt by the time the APNU/AFC was thrown out of Government. According to Bharrat, the PPP/C had left a hefty sum in the Commission's coffers but returned to find that it was completely depleted.
Reports last August had surfaced that the GFC was unable to pay employees and even utility bills to continue operation.
"If 1.3 billion was used and almost a billion was inherited by the APNU Government, then it means we left a viable Forestry Commission. In five years, they would have destroyed one of the best sectors in this country. It is embarrassing to know that our country is covered by almost 87 per cent forest but yet our Forestry Commission is bankrupted… The position of the Guyana Forestry Commission when we took office is that it was bankrupt, unable to pay staff, unable to pay basic utilities. That is a fact. That was the position of the GFC on August 2, 2020."
The Commission has since been bailed out by the new Government with changes to the logging policy so that people can export these resources. Through the Public Works Ministry, new areas will be opened for forestry and mining via increased road networks; namely Kwakwani to Orealla, Buckhall and Puruni.
"We have been taking a number of steps to ensure that we boost production in the forestry sector. We're happy to report that the forestry sector has been showing good signs of becoming viable again. Of course, the COVID situation globally will be an issue but we will learn to navigate through that too," he assured.
Aggregates
Meanwhile, production of aggregates over the last few years was between the vicinity of 500,000 to 600,000 tonnes while the demand in 2020 was 850,000 tonnes – an indication of underproduction. Bharrat called out the former Government for importing this material, instead of offering incentives to push production and generate jobs.
"We are significantly underproducing and the APNU/AFC realised that. Instead of boosting the production and giving licences to people who have the capacity and resources, what did they do? They imported aggregates using foreign currency which they were not generating when they could have boosted local production and create employment," he revealed.
Bharrat was keen to note in his presentation that great emphasis will be placed on the traditional sectors, saving Guyana from developing the Dutch disease. The former coalition Administration's action to downsize the sugar industry had already created a stir down this line.
"What we have seen in the last five years is that the non-oil economy was dying a slow natural death. Budget 2021 created incentives for the traditional productive sectors, the non-oil sector. The APNU/AFC was taking us down the road that so many countries went. So many countries made that mistake to go down the road of the Dutch disease and that is where we were heading."