– in response to extrajudicial killing allegations against PPP/C
Forty-one persons died in Police custody or at the hands of the Police between 2015 and 2020, the reign of the APNU/AFC Government. This was revealed by Attorney General and Legal Affairs Minister Anil Nandlall, SC, during his contribution to the 2023 National Budget Debate in response to accusations that successive PPP/C Governments have been engaged in extrajudicial killings.
"I consulted with the Guyana Police Force and I got the statistics. I will share it with the Parliament. Between 2015 to 2020, before August, 41 persons died in Police custody or at the hands of the Police," Nandlall told his fellow parliamentarians.
According to the Attorney General, this shows that almost eight persons died per year while the APNU/AFC was in Government. During the budget debate, Opposition Member of Parliament Coretta McDonald accused the PPP/C Government of extrajudicial killings.
When Lall Bachan died at Suddie Police Station lock-ups on June 31, 2019, and Kalicharan Saywack died at Sparendaam Police Station lock-ups on January 28, 2019, Nandlall noted that the PPP/C "never alleged extrajudicial killing" nor did it encourage people to beat, burn and rob.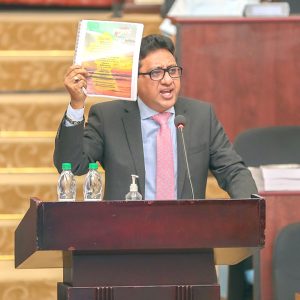 Instead of alleging extrajudicial killing and playing politics with the death and tragedies of these people, he said "we instituted legal proceedings on behalf of their families, and we won millions of dollars of compensation for them. That is the difference in leadership."
The Attorney General called out McDonald for telling the National Assembly that the families of Joel and Isaiah Henry, Harish Singh, Quindon Bacchus, and Orin Boston are still waiting for justice.
On September 6, 2020, the badly mutilated bodies of Isaiah and Joel, cousins, were found in the backlands of Cotton Tree, West Coast Demerara (WCD) – almost one day after they were reported missing. They had left their Number Three Village, WCB home to pick coconuts in the backlands, but did not return home.
Their butchered bodies were found in clumps of bushes partially covered in mud after relatives went in search of them.
Three days after the Henry boys were found, the battered body of Singh was found at the No Three Village, Backdam. His burnt motorcycle was found nearby of his body. It is believed that Singh was killed in retaliation for the murder of the Henry cousins.
Bacchus, a father of one, was shot six times about his body on June 10, 2022, after an encounter with undercover Police ranks whom, he had allegedly approached to sell an illegal firearm.
Boston, of Hoppy Street Dartmouth, Essequibo Coast, Region Two (Pomeroon-Supenaam), was shot during a search of his home by SWAT Unit ranks in the wee hours of September 15, 2021.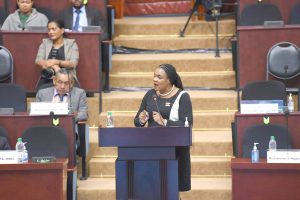 Nandlall accused the Opposition of coming to the House and creating a subtle racial message that the PPP/C Government is unleashing a Police Force against it.
What McDonald omitted to tell the National Assembly, he said, was that "two persons have been charged and committed for murder for the Henry boys. A Preliminary Inquiry (PI) was held, and they were committed to the High Court. Four persons were charged for the death of Harish Singh and a (PI) was done and they have been committed to stand trial.
Three officers have already been charged after an independent investigation was done by the Police Complaints Authority in relation to the death of Quinton Bacchus. The cases are going on in the court. A Special Weapons and Tactics (SWAT) Constable was charged with manslaughter in relation to Orin Boston."
Nandlall, in his speech, condemned the Opposition for spewing racism, as he alluded to the violence that erupted after these killings.
"The violence on the roadways of West Coast Berbice, the robbery, the vandalism, the arson, and the destruction of properties. On the East Coast of Demerara, the robbery of hundreds and the destruction of properties going into the millions is a result of some of these deaths."