A Guyana Defence Force (GDF) rank and a student of Fort Wellington Secondary School were seriously injured after they were struck down by a speeding car along the Fort Wellington Public Road, West Coast Berbice (WCB), on Sunday.
Injured is GDF Reservist, Kevin Wilson while the student was identified as Jaheim Gangoo.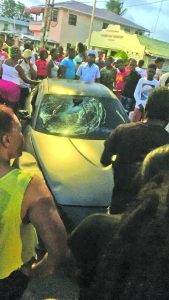 While details on the accident remain sketchy, persons at the scene said the duo was about to cross the Fort Wellington Public Road, when a speeding silver-grey motor car crashed into them. It is suspected that the driver might have lost control. The duo was reportedly riding an electric bike.
Eyewitnesses told Guyana Times that the driver of the car allegedly stopped at the scene briefly and then sped away. The car was later intercepted and set on fire a short distance away while the driver, a businessman's son from the area, was detained but not before being allegedly beaten by a mob.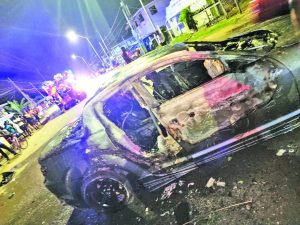 However, as a result of the accident, Wilson and Gangoo sustained serious injuries to their bodies. The businessman also suffered injuries.
The two injured people were taken to the Fort Wellington Hospital where they were treated. Wilson was nevertheless transferred to the New Amsterdam Hospital for further treatment. Gangoo was later discharged but the soldier is in a critical condition.
Meanwhile, in light of the accident, residents of Hope Town, WCB, blocked the main access road and from reports received, they reportedly set a car on fire. Police are on the scene trying to quell the situation