Five persons, including the driver of a hire car, were on Monday arrested along the Aurora Public Road on the Essequibo Coast in Region Two after Police ranks on an exercise earthed 12.3kg of cannabis in a car in which they were travelling.
Reports are that ranks of the Guyana Police Force, acting on information, stopped and searched the car, unearthing a box containing 25 taped parcels of cannabis.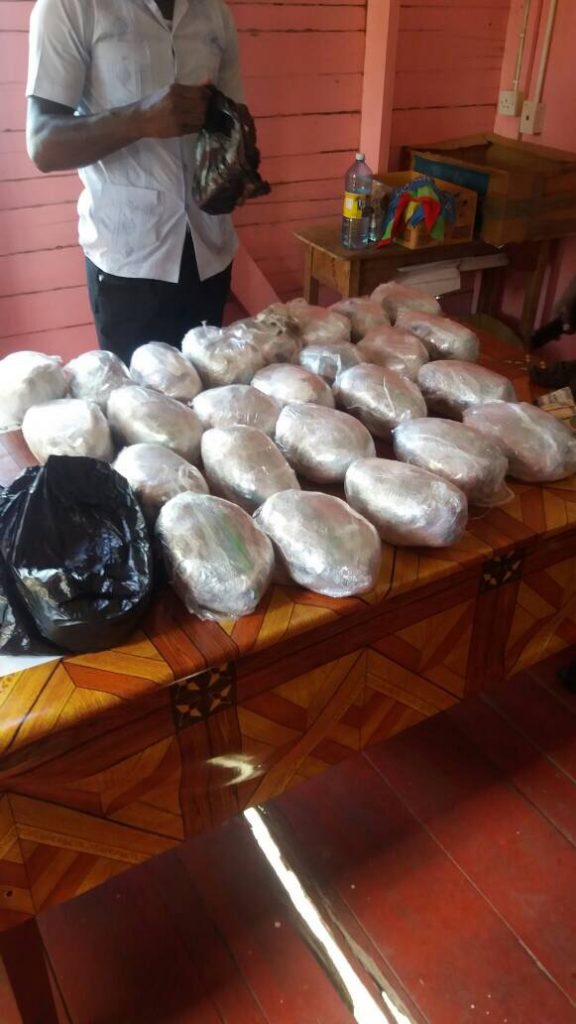 The occupants of the car were told of the offence and arrested, while the illicit drug was confiscated. The men and drug were taken to the Aurora Police Station, where the drug was weighted and amounted to 12.3kg. The men are expected to be charged shortly.
Over the past week, several persons have been arrested after they were found to be in possession of cannabis for the purpose of trafficking. These arrests were done mainly in Bartica, Region Seven.
Two days ago, a Bartica resident was arrested after he was found with a quantity of marijuana. Police, reportedly acting on information, went to a house at First Street Bartica, where the 30-year-old suspect was located at the time, and conducted a search on the premises. They found the narcotics in a haversack that was in his possession, and arrested and took him to the Bartica Police Station, where the marijuana was weighed and amounted to 554 grams of cannabis. The suspect, of Three Miles Potaro Road in Region Eight, is expected to be charged shortly.