With the recent rise in fires at schools over the past two years, the Guyana Fire Service has been making moves to curb such occurrences in the future. Fire Chief Gregory Wickham said during a recent event that the Guyana Fire Service has observed the rise in fires, especially at schools, and has begun training persons to curb these incidents.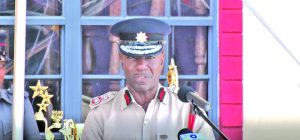 "We have reached out to our intelligence field, recognising that there were many fires within school…and so over that period we would have trained no less than 250 security personnel from the Ministry of Education," the Fire Chief said.
He said these persons are now equipped and educated on how to deal with fires in the incipient stage so that fires can be avoided at learning intuitions.
The Fire Chief added that they have also reached out to members of various policing groups in which they have trained all the members of those groups.
"We are educating them so that they will be able to partner with the Guyana Fire Service so as to build capacity and to lend support in the time of need," he said.
Over the past two years, at least five schools have been affected by fire. These include North Ruimveldt Multilateral School and St George's High School in Georgetown; Essequibo Technical Institute (ETI); Amelia's Ward Primary School in Region 10; and North-West Secondary School.
The fire at North Ruimveldt Multilateral School occurred in June last year, leaving 512 students and 39 teachers displaced during the time when 65 of those students were scheduled to write the 2021 Caribbean Secondary Education Certificate (CSEC) examination.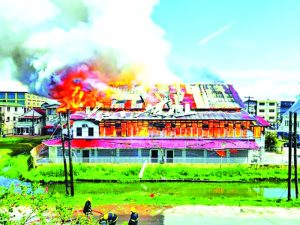 The North-West Secondary School fire, on the other hand, occurred in September last year. Inquiries disclosed that a security guard of Baranobo Hill, Mabaruma, was in his guard hut on his cellular phone when he heard three loud explosions. The sounds emanated from a room on the second floor of the eastern side of the building.
Checks were made and he observed the room engulfed in flames. On the Fire Service's arrival on the scene, the fire was extinguished – but most of the building was damaged. That fire was ruled out as arson.
In July of this year, a massive fire destroyed St George's High School in Georgetown. That was "electrical in nature", the Guyana Fire and Rescue Service said.
Following the blaze, the Education Ministry commenced a registration process for displaced students to ensure that they are placed in a school for the new academic year.
Earlier this month, a major catastrophe was averted when a fire, electrical in nature, was averted at the Amelia's Ward Primary School in Region 10.
Reports are that a staff member observed flames in one of the classrooms and immediately sounded an alarm for students to evacuate the area. Staffers at the school managed to contain the fire.
Fire responders were called to the school and an investigation was conducted. That fire was electrical in nature.
Meanwhile on Monday last, a major fire was averted at the Essequibo Technical Institute (ETI) after a fast response by the Guyana Fire and Rescue Service led to its quick extinguishing.
The Guyana Fire and Rescue Service in a release the following day said that the incident may have occurred as a result of a breakdown in electrical installation. (G9)