Magnum Cup 2019…
The second edition of Magnum Cup rolled off at the National Gymnasium on Friday evening with nine competitive matches that saw only five teams claiming wins.
North East La Penitence marked the first win of the tournament when they defeated Good Life 3–2 in the opening match. A goal each from Dellon Ault, Shaquille Brown and Keifer Brandt was exactly what was needed to overshadow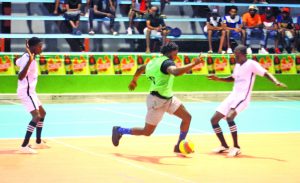 Jermaine Tinch's effort who scored both goals for the opposition.
In the match that followed, Alexander Village scored first against Buxton Diamond, thanks to Leon Yaw who found the back of the net in the second minute but Buxton's Dillon Wright and Shemar Scott netted once each to propel their side to victory.
North Ruimveldt was the next team to sip victory when they drilled Gaza Squad 2–0. Gerald Grittens and Alton Benn scored in the 7th and 15th minutes in North Ruimveldt's quest for the win.
Showstoppers needled Ol Skool Ballers that night with the lone scorer being Stephon Jupiter who netted the decider in the 7th minute.
It was no surprise when Sparta Boss outplayed Mocha to win 2–0 as Gregory Richardson and Jermin Junior scored in quick succession to put the victory beyond doubt.
When Island All Stars met Broad Street, Leopold Street took on ANSA McAL All Stars and Future Stars went against Hustlers; all three matches ended with a 1–1 score-line.
Albouystown and Agricola romped to a nil-all stalemate.
The action continues on Tuesday, February 5 at the same venue as BV-B takes on Good Life, Kingston meets Avocado Ballers, Tiger Bay tries to match moves with Rhythm Ballers, Gold is Money tackles Stabroek Ballers and Capital Strikers line up California Square.
In the second half of the night, BV-B tries their luck against Back Circle, Kingston challenges Avocado Ballers, Sophia goes head to head with Silver Bullets, Sparta Boss battles Gaza Squad and Bent Street faces Melanie in the final fixture.