The most anticipated 50th-anniversary event for the mining town of Linden is the Miss Linden Republic Pageant, where five young beauties are vying for the inaugural title under the theme "Embracing our culture through unity".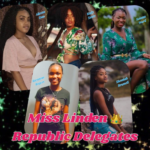 The Pageant is more than the beauty, glitz, and glam, it is about the history of Linden where the delegates will use the landmarks of the Linden as their platforms.
The delegates are undergoing training under the watchful eyes of trainer and former pageant contestant Keisha Bruce as they prepare for the sashing ceremony on Saturday, February 22 with a simple ceremony.
The contestants for this year's pageant are Aliessa Daw, Kady Sears, Keiana Ward, Rayanna Rogers and Shemiah Brumell.
This event will see the young ladies competing in six categories: the introduction, the intelligence, talent, sportswear, evening wear and the question and answer segment as they compete for the coveted crown and several attractive prizes.
Early bird tickets for the event will be just $1000 for adults and children under 10 – $500.
Over $500,000 in cash and prizes will be up for grabs. The event is promoted by Sherwin Entertainment and Friends