The $515 million Sister Hazel Campayne Block at the St. Roses High School was officially commissioned on Tuesday, having withstood several setbacks since the 2018 demolition.
This block is a spanking new three-storey facility with modern amenities, and is equipped with 10 classrooms, a furnished Information Technology Laboratory, a library, a Headteacher's Office, an auditorium, a cafeteria, and an open courtyard with accommodation for up to 400 students.
The block has been named after Sister Hazel Campayne to honour the contributions of the Ursuline Sisters' Convent made to the education sector. Built almost entirely of wood some 175 years ago, the old building had become an unsafe and outdated environment for students to occupy. As such, a $16.9 million demolition exercise in 2018 paved the way for its reconstruction.
The reconstruction was expected to last two years, and over 200 timber piles were installed. The company at that time installed about 90 per cent of the piles, and reportedly removed its resources and abandoned the work site.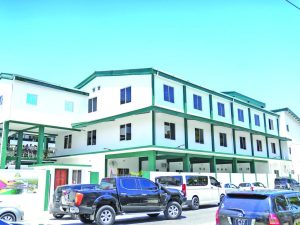 Upon taking office in 2020, the Government made efforts to complete the block. The contract was terminated, and in September 2021, a new contract was signed for the construction of the new block at the cost of $515 million.
Principal Rayon Tobin shared that the replacement structure features many aspects of the original design, and integrates the design of the Marian Wing on the property, including the retention of the green space and courtyard.
"Today I am pleased to let you know that all of that have materialized, and we are seated in a spanking new building. Today our children are happily using this building. They're very pleased…We have endured all the noise, all that was happening, and we stayed here. We ensured that we stayed because we had a focus in mind to have a spanking new building where our learners, teachers and other staff members could be comfortable," he said.
Education Minister Priya Manickchand said that after the PPP took office in 2020, the demolition exercise sparked conversation, since the institution had stood tall for decades. However, the foundation was sinking and the floors were worn, hence it was a sound decision. However, the demolition left the premises in a state of dishevelment, since no construction had started.
"A set of old rusty zinc blocking off so you can't see the true impact of not finishing this school, and you can't see the ugliness that was left in place of the failure to finish this school, and the effect it was having on children. That was an unacceptable position to be in," Manickchand recalled.
She added that some children who started school after the demolition finished their school life with a dilapidated school structure, unable to have the true St. Rose's High School experience.
"The children who started school in 2017 finished school here at St. Rose's with a dilapidated square footage that meant nothing to them, that holds no memory to them. It is far more than the 20 classrooms and teaching and learning that happens in there."
She noted that beyond academics, common spaces serve an important role in a student's school life. The Ministry is also looking at well-furnished rooms.
"Schools are far more than places to learn…We have to have common spaces. We are building out what I hope will be a garden where lasting relationships will be built, where students will learn about each other, and how they can better this country, where they can break bread together," she said.
St. Rose's High School was founded by six nuns and two postulants from the Ursuline Convent in Ireland in 1847. However, today, the school falls under the auspices of both the Education Ministry and a Board of Governors. (Rupa Seenaraine)