An event made possible by Digicel, part of the Hero Caribbean Premier League Big Brother Programme, attracted 20 young cricketers from Enmore and Zeeburg, and saw members of the Guyana Amazon Warriors spending just over an hour interacting with, and imparting their knowledge of the sport to, youngsters on Saturday morning at the National Stadium at Providence, EBD.
The players went through paces on the basics of fielding, batting and bowling, after which they were given certificates of participation.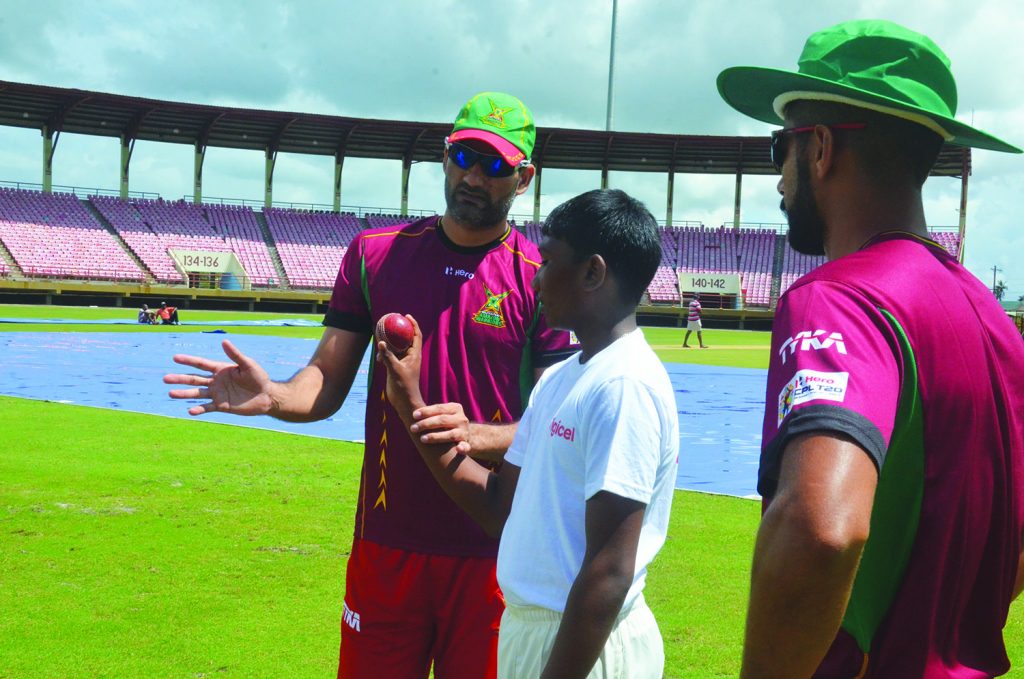 Digicel Guyana Communications Manager Vidya Sanichara said, "We are doing this programme throughout the Caribbean, wherever Digicel markets are, (and) especially in the markets where CPL is going to be played."
Sanichara said Digicel is big on the promotion of youths, and this is just another manifestation of that. "So what we try to do (is to) always incorporate that youth element into the cricket, into football, into any sporting activity that we have; and the Big Brother Programme is to actually get boys who are interested in the game participating."
She added, "Today, here we have two different cricket clubs, one from Enmore and one from Zeeburg. These are fairly new cricket clubs, and they maybe would not have gotten as much exposure as other cricket clubs in Georgetown, and so one would have been privy to (that). So we thought it great to go out of town and get these guys to come and spend some time with the Warriors, and spend some time with Digicel to get that hands-on feel of what it is to live their passion."
Director of Sport Christopher Jones also expressed kind sentiments about the programme, noting that events such as these help to foster the development of the sport and give great confidence to the young players.
Warriors' Rayad Emrit described it as a privilege to work with the youngsters, since he was not afforded those opportunities when he was that age; and he said they showcased an abundance of talent.
The Big Brother Programme is geared to give aspiring cricketers from across the region the opportunity to be mentored by players from the teams in the five territories participating in this year's Hero CPL.