Six tennis players will embark on a national quest at the International Tennis Federation Under-12 Championships in Trinidad from Monday July 17 to Saturday July 22.
The six who are heading to the championships are; Amba Persaud, Akilah Sekai Jones, Reshida Hardy, Devine Jeremiah Kalekyezi, Vadeanand Resaul and Wayne Baker.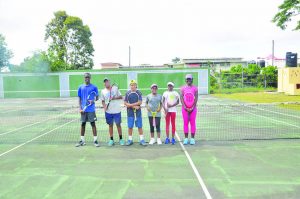 The ITF annual event is usually a singles and doubles event where the top six players (three males, three females) from countries in the Caribbean and Central America compete amongst each other.
However, this time around the Davis Cup Format will be attached and there will be two singles tie and a double tie.
The top two teams will then progress to the masters segment which will be held in Mexico in August.
The national team commenced training immediately after the Guyana Bank for Trade and Industry (GBTI) Tennis Open concluded last month under the watchful eyes of Shelly Daly-Ramdyhan and has so far endured three weeks of intense training at the National Racquet Centre.
Daly-Ramdyhan expressed satisfaction with each player's ability but stressed that she would have loved to work with them for a longer period.
The team is scheduled to wing out on Sunday and will start competing on Monday.