Jailbreak
… transferred inmates slaughter, roast cow to eat at Lusignan
Three days after pandemonium broke out at the Camp Street Prison, which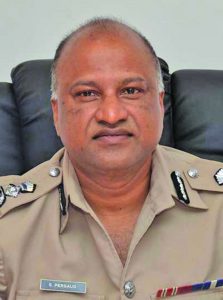 resulted in the death of one prison officer, injuries to several inmates and a completely gutted penitentiary, the Police have now been able to confirm that the number of prisoners on the run has increased.
Police Commissioner Seelall Persaud told Guyana Times on Tuesday that the number of prisoners that are now on the run is eight, as opposed to five, which was reported previously. While the Police Commissioner could not provide the names of the other escaped prisoners, with the exception of those for which wanted bulletins were issued, he said that the information is now being compiled.
Police have issued wanted bulletins for Mark Royden Durant, Uree Varswyck, Stafrei Hopkinson Alexander. Durant, also known as "Royden Williams" and "Smallie", was charged along with several others for the 2008 mass killing at Bartica. The other escapees were also imprisoned for murder.
Asked to provide a more accurate figure on the number of prisoners that were at the Camp Street Prison at the time of the unrest, Persaud said, "I can't say. There were inaccuracies in figures but there were inaccuracies about who were the ones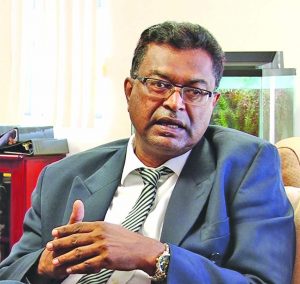 actually missing but that has been rectified," he said.
When pressed further to state what was the exact number of prisoners that were at the Camp Street Prison at the time of the incident, Seelall said, "I am interested in the ones that have escaped… we are trying to assist the prison in restoring order and pursue those who have escaped and get them rearrested."
At a press conference early Monday morning, the authorities had claimed that there were some 1018 prisoners at the facility. That figure was later changed to 1090 and there have also been reports that it may have been 1110. However, it was later stated that some 1144 prisoners were on the actual register.
Meanwhile, Public Security Minister Khemraj Ramjattan confirmed with Guyana Times that the video circulating on social media where the transferred prisoners from Camp Street were seen engaged in slaughtering a cow at Lusignan holding area was factual. He said, "We understand there was a stray animal in there," but when asked how they managed to get devices to undertake such an activity, he could not provide an explanation.
However, he stressed that the facility has maximum security, "it's very tight, and so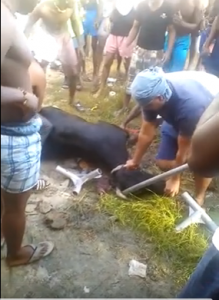 if anybody try anything stupid, you have the Army, the Tactical Services Unit, and prison wardens there. It's about the safest, you could get anywhere in Guyana now. If you have any other ideas you can come up with it, but I'm telling you it's the safest place."
Asked if investigations into what led to the Camp Street fire has commenced, the Minister said, "There are preliminary investigations at this point."