Five homes in Georgetown and one on the East Coast of Demerara have been left in ruins after they were destroyed in separate fires on Saturday.
Three houses at Castello Housing Scheme, Cemetery Road, Georgetown, including one that housed a famous "soup shop", were completed destroyed, rendering three families homeless.
When Guyana Times visited the scene, Lennox Jones, an occupant of one of the destroyed homes, said he was at home relaxing when he started to smell smoke. Upon inquiring, he said he saw smoke emanating from the neighbour's house.
"I run down the stairs and I run over. By the time I run over by Brother John, nobody was there all of his tenants started to break down the gate and they wasn't getting through, so I run back home… I get a heart problem so I bend and I catch myself, and then I came back home…" he said.
Within minutes, the man said the fire started to spread to other houses.
Meanwhile, Orin McKenzie, one of the owners of the house where the fire allegedly started, said he was at church when he received a call that his home was on fire.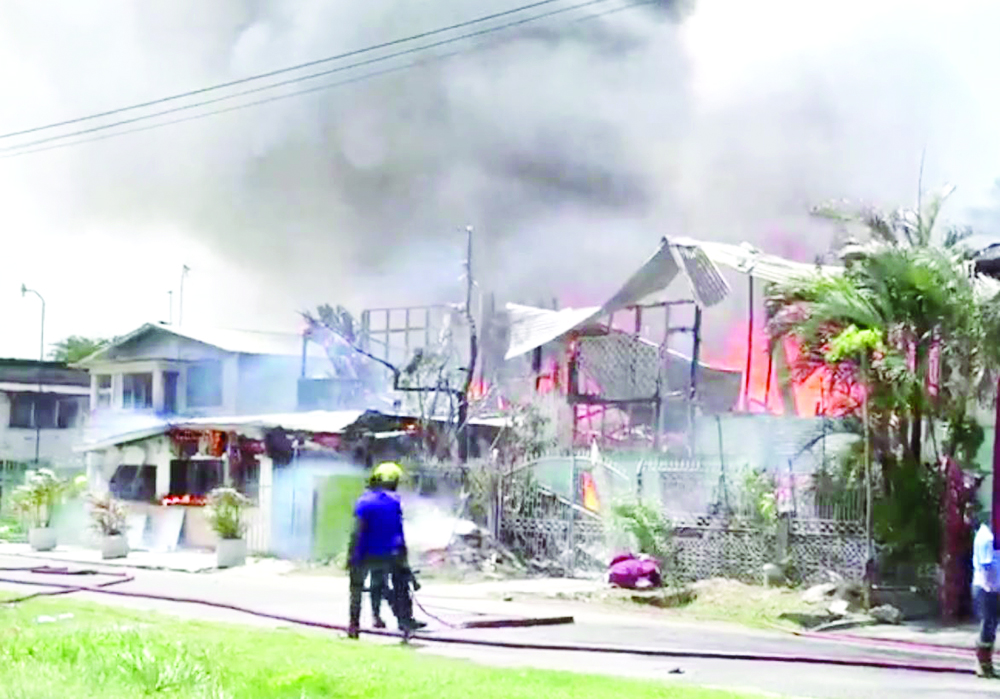 "I came over and all I get to do is go upstairs, take the gas bottle off of the stove, and come down back. I get to grab my bag but the smoke was so much I couldn't get to do anything else. I live here, me and my dad, and we didn't get to save anything… the fire started somewhere upstairs… downstairs is rented, we have tenants living downstairs," the distressed man related.
Meanwhile, in another fire at 19th Street Dazzel Scheme, East Coast Demerara, a two-storey concrete building was completely destroyed by fire on Saturday morning around 03:00h.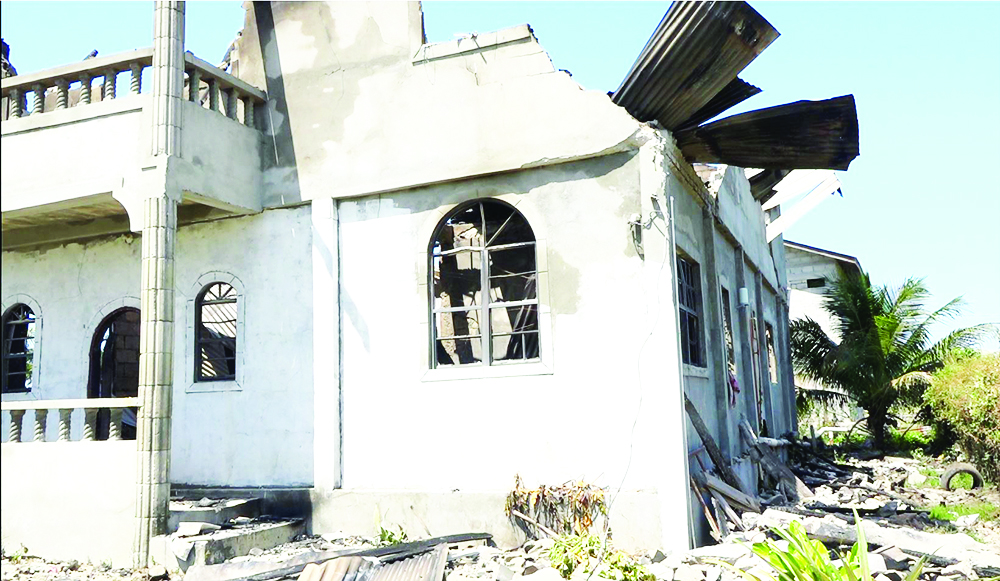 That fire left a family of eight homeless and two injured.
According to the owner, James Osborne, he was asleep in the lower flat of the home when he was awakened by loud noises coming from the upper flat.
He said that on investigating he noticed that the house was engulfed in flames. The man told this newspaper that he along with his family formed a bucket brigade, but they were unable to extinguish the fire.
Among those injured was Osborne's 12-year-old grandson, who sustained minor burns to the back of his neck, while his son received injuries to his leg after jumping from the upper flat of the building to save himself.
The family was unable to save anything from the home.
Meanwhile, at Lot 28B Shell Road, Kitty, two houses were also destroyed by fire, leaving a family of three without a home.
When this publication arrived on the scene, one of the occupants of one of the homes, who gave his name only as Munroe, was seen lying on a piece of plastic in front of the completely destroyed house. He related that he was in his house relaxing when he was saved by his neighbour.
"I had to save my life… if that Rastaman that living over there didn't come and kick down my door, I don't know what would have happened. I picked up a cutlass after I heard somebody kicking the door, and the man said "Jonesy" get out of this house, fire!".
The man said he immediately dropped everything he had and began running for his life.
He said when he got outside, he saw that the fire had completely consumed his sister's house and had caught onto his home.
"I have nothing more, I had to borrow these clothes I am wearing from my neighbour. Since the fire, I lying out here all the time…lost everything…I went and I bought two garbage bags and I spread it out here and I will stay here."
"When I fed up staying here, I will move closer to the house and sleep tonight. I bought some food with the little money I have left… my son is in the hospital," the tearful man said. (LaWanda McAllister)