Agents of the Customs Anti-Narcotics Unit (CANU) on Wednesday discovered $6 million worth of ganja in a Mahdia-bound minibus that was intercepted at Yarrowkabra village, Linden-Soesdyke Highway.
Based on reports received, members of the drug enforcement body conducted an intelligence-led operation that resulted in interception of the minibus as it was transporting passengers and food supplies to Mahdia.
A search conducted on the minibus resulted in the discovery of 19 parcels of cannabis concealed in pieces of sponge.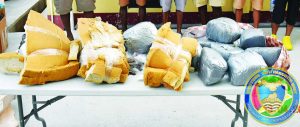 Six persons were arrested, along with the driver, 40-year-old Nelvern Isaacs of Supply, East Bank Demerara (EBD). They were taken to the CANU Headquarters along with the narcotics, which when weighed amounted to 19.593kg, which has a street value of approximately $6 million.
All of the suspects remain in custody as investigations continue.
CANU has been working around the clock to make sure that illegal drugs are taken off the streets. CANU has only recently destroyed over US$2.5 million of drugs seized from 2021, following the closure of the court cases.
It has been reported that the Unit had intercepted 2.1 tonnes of cannabis and 41 kilogrammes of cocaine.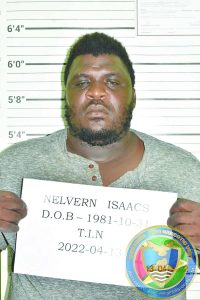 A breakdown of the ganja seized in the various regions of Guyana showed that interceptions occurred as follows: a whopping 1027 kilogrammes in Region Four (Demerara-Mahaica); 481 kilogrammes in Region Six (East Berbice-Corentyne); 457 kilogrammes in Region Two (Pomeroon-Supenaam); 6.4 kilogrammes in Region Five (Mahaica-Berbice), and 4.4 kilogrammes in Region 10 (Upper Demerara-Berbice).
In respect to cocaine interceptions countrywide, 23.5 kilogrammes were seized in Region Four; 17.4 kilogrammes in Region Two, and a small amount of 0.16 kilogramme in Region Six.
In addition, 3.1 kilogrammes of ecstasy were confiscated in Region Four, and a small amount of Crystal Methamphetamine and Hashish were seized.
In 2020, CANU had seized 32 kilogrammes of cocaine and 135 kilogrammes of cannabis. Last September, CANU and the Guyana Police Force destroyed over $100 million in illicit drugs, including cocaine and marijuana that had been seized over the past two years.