Attorney General and Legal Affairs Minister Anil Nandlall, SC, has joined in rubbishing allegations levelled against Justice Adrian Saunders, President of the Caribbean Court of Justice (CCJ), over his recent engagements with officials of the current People's Progressive Party/Civic Government.
Justice Saunders was invited by the Guyana Bar Association last week to deliver the Keynote Address at the Bar Dinner last Saturday, which culminated in a series of activities as part of the association's inaugural Law Week. The CCJ is Guyana's apex court.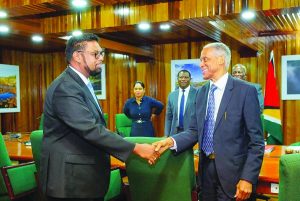 As is customary and protocol to do, the CCJ President, during his visit, on Friday paid a courtesy call on President Dr Irfaan Ali, who was joined by other Government officials, including Vice President Dr Bharrat Jagdeo and Prime Minister Mark Phillips, along with several ministers. He also met with AG Nandlall and legal practitioners within his office.
These and other meetings on his agenda, including with Chancellor of the Judiciary Justice Yonette Cummings-Edwards and Secretary-General of the Caribbean Community (Caricom) Dr Carla Barnett, were indicated in an official missive from the CCJ. It was explained that since there was no Leader of the Opposition at the time, no such meeting was scheduled.
However, there have since been criticisms from certain sections, denouncing these meetings and accusing Justice Saunders of being biased, given the fact that Guyana has cases before the CCJ in which the Government is a party.
But during this week's edition of his programme – Issues In The News – Nandlall described those allegations as distasteful, unfortunate, regrettable, and baseless.
"I reject that the meetings convey an improper impression; suggesting, of course, that by those meetings, the appearance of bias, or perhaps worse yet, there is likely to be actual bias when the cases are going to be heard before that court. I wish to reject those criticisms out of hand as completely misconceived, wholly without merit, and rather scandalous," the Attorney General posited.
He argued that it is a normal practice for the President of the CCJ, and even judges of the regional court, to make courtesy calls on the Head of State, Attorney General, and Opposition Leader in any member State that has the CCJ as its final court.
"Mr. Justice Saunders simply observe that practice. One of the first things that Mr. Justice Saunders said at the courtesy call that he paid on His Excellency the President was, if there was an Opposition Leader, he would have done similarly… The mere respectful engagement in the form of a courtesy call cannot, and does not, amount to impropriety if the parties involved is a judge and, in this case, members of a Government," the Legal Affairs Minister contended.
Nandlall further reminded that former CCJ President Sir Dennis Byron had paid a similar courtesy call on former President David Granger during a visit here back in November 2015. At the time, he noted, Guyana had pending cases before the CCJ, but the PPP/C, as the then main Opposition party, did not raise any objection with the meeting.
"We didn't view that as an improper engagement, so I don't understand the basis for these ludicrous allegations; these are ordinary engagements. In any democratic, civilised society, these engagements cannot, and do not, constitute an abrogation of the principles of separation of powers, neither do they amount to, in any way, a violation of the doctrine of natural justice. It's only a perverse and perverted mind that can draw these ridiculous inferences and arrive at these outrageous conclusions," Nandlall stated.
Further driving home his point, the Attorney General explained that the Executive regularly interacts with the Judiciary in Guyana, and even he himself is invited to participate in major events.
Only two weeks ago, Nandlall delivered the feature address at the opening of a Magistrate's Court in Kwakwani, Region 10 (Upper Demerara-Berbice). This, he noted, has been happening for years under various Governments.
"I suppose that when you live in a society where you have persons who have an agenda to divide, they will make these issues part of their agenda, and that is what you're seeing here… But it is unfortunate that we have not reached the level of maturity as yet, where these engagements can take place and one can view them objectively, dispassionately, and do not attribute ulterior and sinister motives to the parties of those types of engagements. But that's the society in which we live," the AG asserted.
Meanwhile, the Bar Association in Guyana has also already denounced the criticisms against the CCJ President. In a statement issued last Saturday, the Association explained that it is the protocol of the Caribbean Court of Justice that its President visits with the Head of State of member States when that country elects a new leader.
"There is therefore nothing peculiar or insidious about the visit of the President of the Caribbean Court of Justice and the protocol adopted as part of his visit. Any such insinuation or allegation is unfounded and mischievous… The Bar Council unreservedly condemns such statements and/or insinuations. The integrity of His Honour and the Court is beyond reproach. We have full confidence therein, whether decisions have been made for or against this Government or any other sitting Government," it stated.