Over the weekend, seven vehicles were damaged in separate accidents along the Essequibo Coast, Region Two (Pomeroon-Supenaam).
In the first accident on Friday night, three vehicles with licence plates PYY 8083; PZZ 956, and PAB 252 were involved in a collision at Bush Lot village.
No injuries were reported, and the three drivers are currently in custody, assisting with investigations.
In the second accident, however, which occurred on Saturday morning, three vehicles with licence plates HC 1521; PAD 2295, and HD 4649 were on their way to Anna Regina when they were involved in a collision.
One of the cars almost skidded into a nearby trench, while the other two collided with each other. Upon hearing the loud impact, residents rushed out to offer assistance.
Although the drivers were unhurt, the collided cars suffered extensive damage. Two passengers were rushed to the Suddie Public Hospital for medical attention. A resident who witnessed the accident described the drivers as looking traumatised after the incident occurred.
Also on Saturday, a car ended up in a trench heading to Capoey. No one was injured in that accident.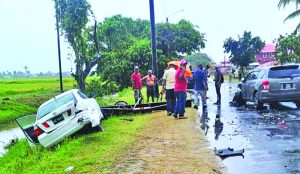 More than a month ago, the Guyana National Road Safety Council (GNRSC) announced that the body is aiming to reduce traffic accidents and fatalities by 50 per cent this year.
Deputy Commissioner of Operations (ag) Ravindradat Budhram during the discussion, said that for 2023, the Road Safety Council and the Guyana Police Force will be establishing councils in all regions to help educate the public on road safety.
Budhram said the Police Force has made note of the alarming figures as it relates to road accidents, and is working to arrest this issue.
Meanwhile, the Chairman of the Guyana National Road Safety Council, Earl Lambert, said the council is hoping to get everyone involved in reducing accident figures this year. He said the plan is to have organisations, especially schools, involved, which he is confident will be a success.