A 75 million-dollar building will be constructed in the new year in the compound of the Georgetown Mayor and City Council (M&CC) to house its administrative staff as the Council awaits funds for the much-needed rehabilitation of the 19th century structure. The deplorable state of the colonial building has been an eyesore for many years, with several citizens voicing their displeasure over the conditions and the building being declared unsafe for use.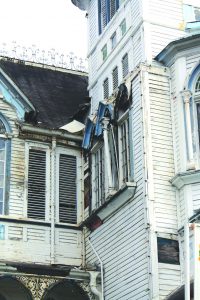 This was revealed by Communities Minister Ronald Bulkan after being probed by Opposition Member of Parliament Gail Teixeira on the status of the restoration project. Teixeira said it is in the worst state that she has ever seen it and asked Bulkan if any money was put aside to rehabilitate the picturesque structure.
Bulkan in his response told the National Assembly during the Committee of Supply on Wednesday that the building is unsafe to house the staff while under construction. As such, he noted that works will commence in 2019 to construct a new admin building while the restoration works are in progress. The Opposition Member of Parliament (MP) wanted to know what it will cost taxpayers to restore the structure. However, the Communities Minister indicated that the building falls under the purview of the National Trust which itself falls under the Social Cohesion Ministry.
Bulkan reminded the House that the National Trust is very concerned over the state of the building and noted that Government has received offers from "external sources" to allow for the rehabilitation of the historic building. He however cautioned that the M&CC is also responsible for the building. It is expected that the new building to temporarily house staff will be completed by the end of 2019.
Though Central Government is taking steps to facilitate the renovation, City Hall continues to complain of its cash-strapped status and reportedly does not have these monies to rehabilitate the current building.
The European Union (EU) in July handed over a detailed $64 million restoration plan it funded for the deteriorating City Hall. The restoration work was estimated at US$4.3 million (GY$894 million), but the National Trust of Guyana has cited a higher figure at GY$1 billion.
The Town Clerk had informed at that time that the City Council had made attempts to restore City Hall and other structures within Georgetown.