–
during Eccles home invasion
Seventy-eight-year-old Rohnee Mithuram of Lot 357 Eccles, East Bank Demerara was brutally beaten and robbed by two men at her home in Eccles, East Bank Demerara on Sunday just after 03:00h.
Speaking with Guyana Times at her home on Monday, the pensioner recalled that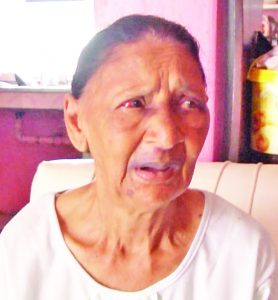 one of the unmasked bandits had even pressed a pillow over her face during the ordeal.
"Me nah know the time that they come," she explained. "[But it was] two of them, and them cuff up me in my face and say they ask for money and jewels," the septuagenarian told this publication.
Mithuram's assailants reportedly kicked her in the abdomen several times, before fleeing the home with a bag containing her passport and Identification Card, three finger rings, $6,000, and her pension book.
The elderly woman disclosed that she had recently acquired her passport, and was scheduled to leave the country soon to reside with her niece in New York.
After the men left, Mithuram said, she immediately ran outside of her home, screaming and crying for assistance. However, her sleeping neighbours did not respond.
"Me go out pon the road and holler and cry up and down, but the neighbours them been sleeping," the elderly woman related.
She added that assistance came when a Hindu priest (pandit) passed by and enquired how she was doing, and she related to him what she had just experienced. She was taken to the Diamond Diagnostic Centre, where she was treated and discharged.
She is complaining of experiencing pains in her neck, brought on by her being choked and manhandled by the bandits. Her eyes are currently bloodshot and her nose is bruised and visibly swollen.
No one has yet been apprehended for this heinous act, but investigations are ongoing.