…during 1st day of Global Robotics Challenge
Following the completion of the first day of the Global Robotics Challenge, Team Guyana has emerged victorious at the international competition currently underway in Washington, DC.
Of the 165 participating countries, Guyana, with its delegation of six teenagers and
three adult mentors, managed to work its way to the top, with just three rounds of competition under its belt.
Speaking to Guyana Times on Monday was captain of the group of innovators, Ryan Benschop, who expressed delight over his team's accomplishments thus far.
Benschop noted that in the three matches completed Monday, the Guyanese group has been successful, gaining in excess of 100 points at each of the rounds. The teenager even indicated that this was despite the challenges encountered.
The captain of the Guyanese team explained that at the beginning of the second round, their robot was unable to connect with the controller for the first 55 seconds, but despite only being allotted 150 seconds, they still managed to finish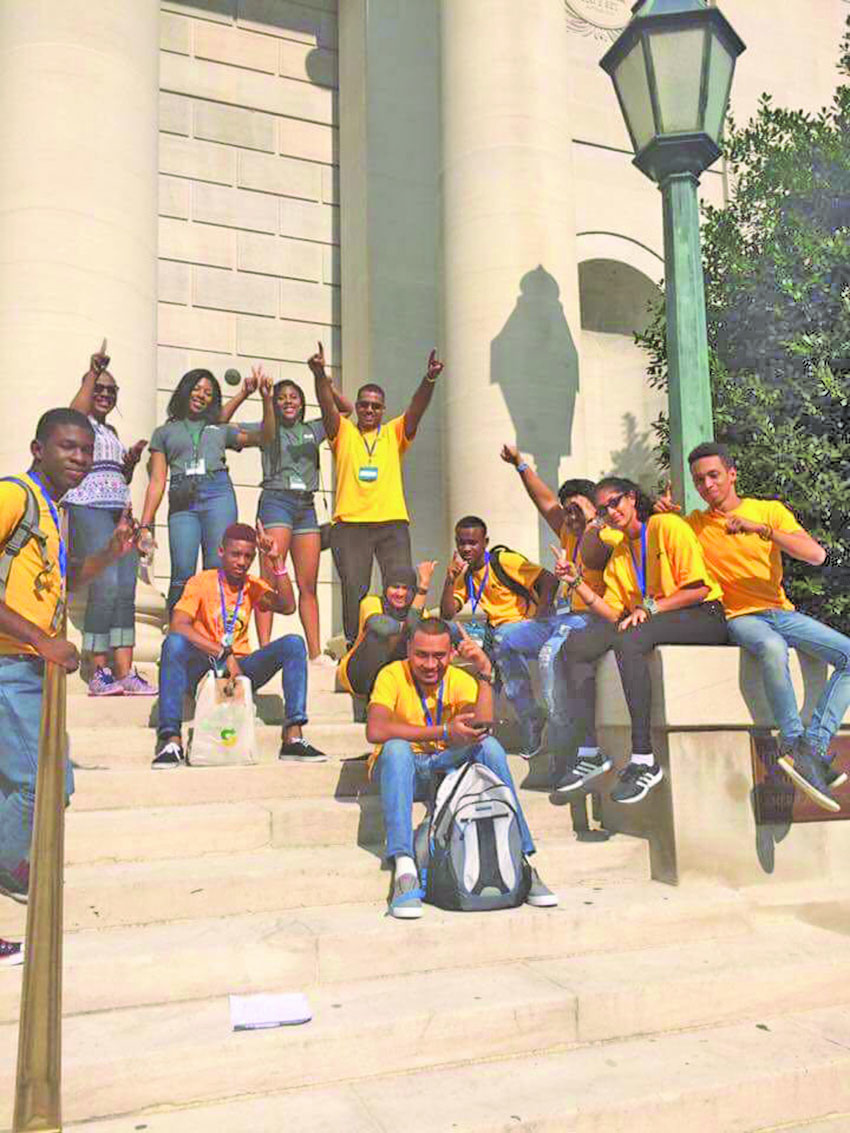 at the top with an outstanding 103 points.
After highlighting that the team has put over three months of work into creating their masterpiece, Benschop said, "It's truly amazing to put what we have created up against other countries' creations and to be performing as well as we have."
As such, with the final three rounds set for July 19, the teenager underlined, "We've definitely had a winning performance thus far, and will continue in our final three games tomorrow."
Meanwhile, commenting on the ingenuity of their robot, the young man indicated that the creation has the ability to manipulate a series of balls, elevating and sorting them by colour.
With that, the enthusiastic team leader relayed, "It's largely because of a great design and build that we have such an advantage and we're ranked number one, also because of the players and great ability to handle the pressure and stay focused."
With that, Team Guyana evidently has all eyes on the prize and intends to bring the championship title home to Guyana.
The international competition, organised by FIRST Global, is an annual robotics challenge to ignite a passion for Science, Technology, Engineering, and Mathematics (STEM) among the more than two billion youths across the world. The not-for-profit public charity provides the framework for an "Olympics"-style robotics challenge, where one team from every nation is invited to participate. This year marks Guyana's first participation in the competition, one which will certainly leave a lasting impression.