UDFA GT Beer Christmas Football Tourney…
– Eagles United, Blueberry Hill pull out
The 7th edition of the Upper Demerara Football Association's (UDFA's) GT Beer Christmas Football Tourney kicks off tonight (Friday) at the Mackenzie Sports Club ground in Linden.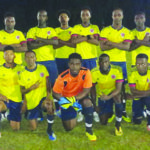 The UDFA have, however, been unable to confirm the prizes on offer in a meeting with the participating teams, as they were still awaiting word from beverage giants Banks DIH in regard to what is on offer for this eagerly awaited football spectacle.
This uncertainty has led to reigning champions Eagles United pulling out of the tournament, as have Blueberry Hill; nevertheless, the tournament kicks off with a double-header, wherein Topp XX and Botafago clash from 19:00hrs, and Coomacka Mines face Net Rockers thereafter.
A UDFA official has said that body had, on Thursday, expected to hear from Banks DIH on its contribution to this year's championship tournament.
The ten teams participating in this tournament have been placed into groups as follows: 'Group A', comprised of Coomacka, Net Rockers and Silver Shattas; 'Group B', comprised of Hi Stars, Winners Connection and Capital FC; and 'Group C', comprised of Topp XX, Amelia's Ward, Aroaima and Botafago.
The dates on which this tourney would be played are December 13, 15, 18, 20, 23, 26; the semifinals will be played on December 29 and the final will be played on January 1, New Year's Day.