St Cuthbert's inaugural 2-day cricket match…
For the first time in history, St Cuthbert's Mission was able to host a two-day cricket matchup between its 'A Team' and their 'B Team' counterparts in a bid to take their cricket to the next level.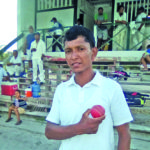 Having won the toss, the 'B Team' decided to bat first, and posted 173. Wendell Williams and Ryan Gonputh were the openers, and the latter wicket was the first to fall, when the score was on 29.
A few other wickets tumbled before Odell Schuman came to the crease and did some rebuilding of the innings with Williams in a 49-run partnership.
Williams was dismissed for a well-played 33, before Schuman was dismissed for 23 just after the lunch interval. The score then read 95-4.
The last six wickets took some time to fall, as Julio Ferreira (19) and Reaul Daniels (26) tried to resist the 'A Team'.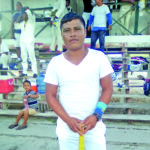 The main wicket-takers were Timothy Andrews, with 3-13 and Rayon Gonputh, with 3-29.
In reply, the 'A Team' lost Avenesh Poonsammy with the score on 25; and one run later, his aggressive opening partner David Frances was outfoxed by captain Ferreira for 23.
Thereafter, the wickets of Chavez Schuman (13), Clenton Wong (1), Rayon Gonputh (0), Zack Ferreira (9) and Timothy Andrews (14) fell in quick succession to see the 'A Team' close the day's play on 73/7.
Overnight rain caused a late start to the second day's proceedings, but the A Team's innings was wrapped up early in the session for 92 runs.
The 'B Team' were hoping to add a big score to their 82 runs' lead, but the pace bowling of Denzil Schuman, who used the overcast conditions to his advantage, ripped the heart out of their batting and caused them to subside at 75 all out. He ended with match figures of 8-25.
After tea, the target was set at 158, with 25 overs remaining in the last session. David Frances and Chavez Schuman took to the crease, and started their innings in 20/20 fashion.
Frances was dismissed for 44 when the score was on 87 in the 15th over, but Schuman kept hitting the bowlers to all parts of the ground before he was dismissed for an entertaining 56.
Zack Ferreira stroked a well compose 20, and the experienced Timothy Andrews blasted a quick 26 to enable the 'A Team' to reach their target in 21.3 overs for the loss of just 4 wickets.
Denzil Schuman was adjudged best bowler, and Chavez Schuman was adjudged best batsman of this contest. This event was hosted and sponsored by the St Cuthbert's Pakuri Sports Club.