…Relay team also included
The Athletics Association of Guyana (AAG) has released a shortlist of 18 athletes who are being considered for this year's CARIFTA Games in the Bahamas.
Among the list of teenage athletes is a proposed 4X100M Under-17 Girls' team, a move that AAG President Aubrey Hutson had previously expressed intention of exploring.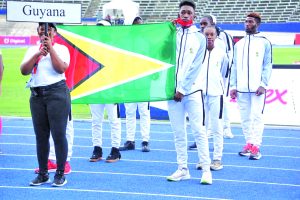 Meanwhile, CARIFTA 2022 Gold medalists Attoya Harvey and Anisha Gibbons headline the list, both set to compete in the Under-20 Girls' category. Gibbons, who is currently at the New Mexico Junior College competing in the National Junior College Athletic Association (NJCAA), will be plying her trade in the javelin event in pursuit of back-to-back gold medals. Harvey, on the other hand, will be competing in her pet events: the 800M, 1500M and 3000M races.
Also in that age category is another 2022 medalist, Narissa McPherson, who will be competing in the 400M and 800M races.
For the Under-20 Boys, Ezekiel Newton, Wesley Noble Jr, Seon Booker, Omar James, Odida Parkinson and Trevon Hamer will take to the track. Newton will contest the sprint double (100M and 200M), while Noble Jr. takes on the 400M. Also in the 400M will be Omar James, who also has the 200M on his list of events.
In the middle-distance races (800M and 1500M), Seon Booker is set to represent the Golden Arrowhead, while Parkinson goes the full length in the 5000M.
2022 medalist Javon Roberts (800M, 1500M) leads the Under-17 Boys' qualifiers, which consist of Malachi Austin (200M, 400M), Ezekiel Saul (Triple Jump, High Jump), Deuel Europe (Long jump) and Immanuel Adams (High jump).
on the distaff side are Athaleyah Hinckson (100M, 200M), Tianna Springer (200M, 400), Tamara Harvey (Long Jump) and Adessa Albert (100M), all of whom will make up Guyana's 4X100M experimental relay team.
"I think we need to at least create an impact around the world. I mean, you saw what happened at the Commonwealth Games at the senior level? We think if we start to build from the youth and junior level, our ability not just to have a one-off sprinter, that we have 4, 5, 6 good sprinters in our repertoire, would build a reputation for us as a sprinting nation," AAG President Aubrey Hutson had told <<Guyana Times Sport>> about his intention to have a relay team at the games.
The Athletics boss added, "The only way you could realize that is if we can get a good relay team, where, you know, those four athletes go out there and represent us in one event. You're showcasing four athletes on the track and saying look, we have 4 high-calibre sprinters here."
The CARIFTA Games ae set for April 7-10 in the Bahamas. At the 2022 Games, the Guyanese contingent returned with 7 medals: two gold, three silver and two bronze.