… As CRTTF Senior Championships officially open
The Caribbean Regional Table Tennis Federation's (CRTTF's) 63rd Senior Championship was officially declared open on Tuesday afternoon during a simple ceremony at the National Gymnasium on Mandela Avenue in Georgetown.
Table tennis players from over 10 countries gathered for the official opening of the tournament, which served off on Monday morning at the same venue.
Caribbean Regional Table Tennis Association Federation (CRTTF) President, Theodore Matthews, in remarks emphasized the upward movement of the standard of the game in the Caribbean Region, while praising Guyana's efforts of hosting three back-to-back tournaments.
The CRTTF President highlighted, "As you can see, our competition has reached a high standard, not only in the level of play, but as you can see, even as high as the standard of an ITTF table tennis competition. This is as a result of the hard work that we've done over the last 8-10 years to ensure that we can bring our competition to that level.
"We have to thank the Guyana Table Tennis Association (GTTA) for the Herculean effort that they have made over the last few months, not only to get the facility up to mark, but to run three competitions consecutively," Matthews praised.
Meanwhile, Sport Minister Charles Ramson Jr. articulated that Guyana's feat of hosting the three consecutive tournaments is only the beginning of the country's commitment to transforming sport.
"We are very on the Government side to hear that, for the first time, we're able to combine the three tournaments: the qualifiers, the juniors and the seniors, all at the same time and the same place," Ramson jr. shared.
The Sport Minister went on to reveal, "And it's a really important signal, where we get to send to the entire region that we're serious about making Guyana a home for sport. That's our intention here."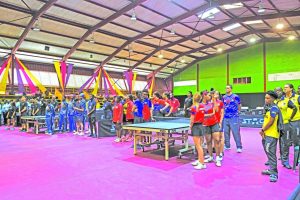 The CRTTF Senior Championships is set to conclude on March 25th, 2023, while the Caribbean Youth and Cadet Championship is scheduled for March 27th to April 1st. the two tournaments come after the qualification for the Central American Caribbean (CAC) Games were hosted from March 16th to 19th.