The Albion Community Centre Cricket Club (ACCCC) last Tuesday distributed food hampers to its needy members and senior citizens of that Corentyne community.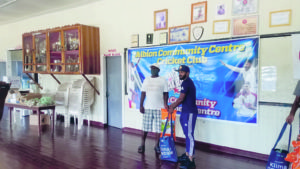 This distribution activity, which occurred at the ACCCC's Main Hall, is part of the Club's continued efforts to assist those in need as a result of the current COVID-19 pandemic.
Funding for this most magnanimous activity
was made possible by contributions from the Club's national and international cricketers;
executive members; sponsor of the Under-15 Team, Permaul's Trading and Distribution; and sponsor of the Club's First Division Team, Ajit Mootoo.
ACCCC President Vemen Walter has said the club is aware of its members' situation, and that was taken into consideration when the persons who were recipients of these hampers were selected. Some cricketers whose families are experiencing difficulties with their jobs, among other situations, were considered.
The ACCCC also distributed face masks to its members during last month.
Among the best cricket clubs in Guyana, the ACCCC is also urging everyone to take the necessary precautions to avoid contracting coronavirus (COVID-19), and pray that the Almighty would soon end this unwanted situation in our country and in other affected countries.
The ACCCC has said that the situation in regard to the coronavirus would continue to be monitored very closely, and assistance would be provided to ACCCC members and, by extension, the community at large, as the need arises.
Having already implemented measures to battle the COVID-19 pandemic, the club, a few weeks ago, temporarily suspended all cricketing activities until further notice. A release from the Club in this regard also stated that with the negative impact that the coronavirus would likely have on businesses — and moreso sponsorship in regard to Berbice cricket — all possibilities would be explored to further assist the Berbice Cricket Board (BCB) with sponsorship.