AG's report
The Public Accounts Committee (PAC) has put officials, including Regional Executive Officers (REOs), on notice that sanctions will be inevitable if areas of concern raised by the Auditor General's 2015 report are not addressed.
This comes in the wake of several PAC meetings, which have seen regional officials being grilled by the Committee over red flags raised by the report. According to PAC Chairman Irfaan Ali in a recent interview, the PAC will exercise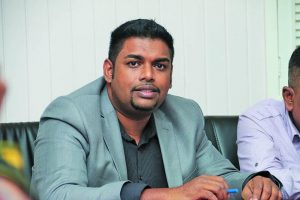 its responsibility to ensure that public officials expend public monies.
"The PAC has made it very clear that public officials must take (integrity) seriously when they come before the PAC. We have a responsibility to ensure that public resources are expended in an accountable and transparent manner."
"We had brought all the REOs together with the elected officials. And we would have highlighted to them some of the consistent weaknesses we have seen in the system. And we have highlighted areas where we would have no tolerance with and their improvement is needed," Ali pointed out.
"The Financial Secretary, who is an adviser to the PAC, has already written a number of accounting officers in relation to breaches and warnings in terms of sanctions. So the PAC is looking at those accounting officers who are not improving their work."
Ali stated that there would definitely be disciplinary measures through the relevant agency, which he noted is the office of the financial secretary, for recalcitrant accounting officers. He was also asked about the fate of REO of Region One (Barima-Waini), Leslie Wilburg. He stated that that matter would be addressed when the PAC meets on March 27.
In February 2016, Wilburg was questioned by the PAC about some $30 million in overpayment to contractors in 2010 and 2011. He had stated that they were written to in order to inform them of the monies owed. But it was when Wilburg claimed to have sought legal advice from the Communities Ministry that things went downhill.
The PAC ascertained from the Communities Ministry Permanent Secretary, Emil McGarrel, that a letter he had sent to the contractors was sent to the PS, but no legal advice was actually sought. This and the fact that some of the overpaid contractors were still working with the Region caused Ali to eject Wilburg from the chambers.