Vlissengen Road shooting
Murder accused Travis McDougal who is implicated in the shooting death of a businessman will know his fate today. Forty-three-year-old dredge owner Ashok Raghu was killed outside the Botanical Gardens on Vlissengen Road, Georgetown, in August 2014, in the alleged execution of a robbery by two bandits.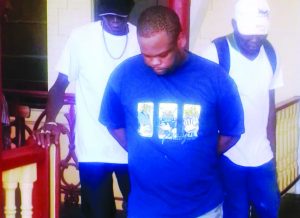 Now that closing addresses have been presented by the prosecution and the defence in court, Justice Navindra Singh will this morning sum up the entire case before the 12-member jury can deliberate to return a verdict. It was in July 2015 that McDougal was committed to stand trial for murder, along with porkknocker Jermaine Otto. However, McDougal will learn his fate on his own as Otto was one of the prisoners who perished in the deadly Camp Street Prison fire, following riots in March 2016.
McDougal, of East Ruimveldt Housing Scheme, Georgetown, and his accomplice were both accused of killing Raghu on August 18, 2014, during the furtherance of a robbery of $4 million, committed on the now deceased man and his wife, Shyrazadi who was shot to the thigh.
The wife of the deceased testified with great emotion on Wednesday, identifying McDougal as one of the persons who committed the deadly crime. At Tuesday's trial, Police Superintendent Michael Kingston who was attached to the Brickdam Police Station that year read out the caution statement that McDougal allegedly gave Police.
The jury had heard that McDougal knew his accomplice, Jermaine Otto, called "Fungus", from the time they attended the Lodge Secondary School together. Otto was said to have asked the accused to drop him in Kitty, Georgetown, because McDougal had a driver's licence.
According to McDougal's recounting of the night's events, when the two were on the motorcycle and had reached the traffic light at Regent and Vlissengen Roads, Otto jumped off and proceeded to a car.
"All I hear is shots," the accused allegedly stated, further adding that he later heard that the man died but the wife got shot. Otto contacted him and reportedly said: "I hope my name ain't get call."
Superintendent Kingston further testified that McDougal signed the caution statement six times, adding that the accused was not handcuffed when he had done so. The Police witness further told the court that the accomplice, Jermaine Otto was subsequently arrested, after intelligence was passed on to investigative ranks.
It was on Friday last that State Pathologist, Dr Nehaul Singh also testified saying that Raghu died from a perforated lung due to a gunshot.
It is believed at the time of the robbery that one of the men had grabbed a haversack containing $4 million, but Raghu's wife held onto the haversack before she was shot. The State's case is being led by Prosecutors Tuanna Hardy and Siand Dhurjohn, while the accused is being represented by Defence Counsel, Nigel Hughes.